6 Reasons to Study BS Psychology
Posted by

Date

February 9, 2023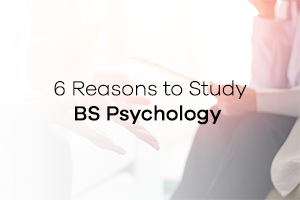 Psychology is an interesting field of study. There are several reasons to study BS psychology, ranging from job opportunities to personal interests. 
This field will assist you in better understanding human behaviour and mental processes. Along with this, you will learn how humans think, react, and feel. So, if you are thinking about why you should be studying BS psychology, you are certainly at the right place.  
Objectives of the BS Psychology Program
The Muhammad Ali Jinnah University offers a BS psychology degree. Our courses, as well as the program curriculum as a whole, equip you as a well-rounded student with marketable, professional knowledge. So, after completing the degree and participating in experiential learning, you will be able to: 
Develop a good research background and grasp of psychology's scientific basis.

 

Build up your understanding of human behaviour across the spectrum of psychology.

 

Learn about how psychology is used in related fields of work.

 

Apply 

ethical principles

 in the conduct and evaluation of psychological science and practice.

 

Understand local, regional, national, and worldwide challenges by applying psychological theories. 

 
Why Should You Study BS Psychology? Top 6 Reasons
Following are the reasons to pursue a career in the field of psychology or get a degree in BS psychology.  
1. Develop Subject-Specific Knowledge
The most evident benefit of studying psychology is the in-depth knowledge and understanding you will gain of the mind, brain, and human behaviour. Our curriculum includes all subjects that you need to understand the basics of psychology. Thus, you will gain substantial knowledge and this information will assist you in discovering the theoretical and scientific foundations of psychology.
In addition, it will help you grasp the variety and importance of psychological well-being. It will also enable you to gain a thorough understanding of many specialized fields or applications of psychology. 
2. Understand Human Behavior
You may advance in your profession and take on management or senior positions. This requires you to make challenging choices and perform under pressure. The success of your career will largely depend on how you respond to these circumstances. 
Understanding your personality and gaining insight into your own behaviour might help you view a task or role at work from a particular angle. You can perform more effectively in these various situations if you use your understanding of psychology and behaviour.  
You will be able to understand and acknowledge the underlying causes and theories of these aspects after earning a BS Psychology Degree.  
3. Understand Yourself Better
You will need expertise in particular areas, such as conflict management, teamwork, and leadership. Especially if you are thinking about a job in people management or human resources. 
Employers and managers also value these abilities highly, and they frequently place a high value on workers who can effectively manage a team while simultaneously encouraging efficient working relationships. 
You may strengthen these skills and succeed in these types of employment by using the knowledge and empathy you learn in BS psychology degree courses. 
4. Improve Communication Skills
Effective interpersonal communication is an important skill in almost all industries. Every psychology student develops and improves this talent, frequently without even knowing it. 
The capacity to construct an argument, describe a subject clearly and objectively and quote relevant sources are crucial components of content creation at the higher education level. 
Then, this form of communication can be applied immediately from the classroom to the workplace. 
5. Enhance Your Critical Thinking
To make the best possible choice, a competent professional always assesses each set of numbers, ideas, and proposals that are offered. 
A BS psychology program places a strong emphasis on critical thinking because students are expected to evaluate each resource and theory that they use. You can help to prevent costly mistakes later on in the workplace by improving this skill with the guidance of a teacher and your classmates. 
6. Increased Employability
You have a wide range of expert choices at your disposal with a BS psychology program.  Many graduates work in fields including sports, education, forensics, and law enforcement as psychologists or therapists. Others work as investigators, neuroscientists, career counsellors, or consultants. A significant percentage of graduates go on to pursue academic careers in research.  
Other career options are as follows: 
Criminal Psychologist

 

Clinical Psychologist

 

School Psychologist

 

Research Psychologist

 

Counselling Psychologist

 

Neuropsychologist

 

Industrial Psychologist

 

Educational Psychologist

 

Forensic Psychologist

 

Developmental Psychologist

 

Consumer Psychologist

 

Sports Psychologist

 

Military Psychologist

 

Community Psychologist

 

Cognitive Psychologist

 
And the list goes on 
BS Psychology Program at MAJU
Muhammad Ali Jinnah University offers an extensive BS Psychology course. So, if you are looking for an institute to study this field, MAJU is the best choice. We offer every educational facility along with high-quality education.  
For more information, you can contact us at  info@jinnah.edu.