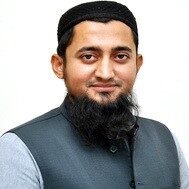 Dean Message
Welcome and Greetings to the Faculty of Computing, Mohammad Ali Jinnah University.
The Faculty of Computing (FOC) offers a friendly and exciting academic environment in which the views, values, ideas and experiences of a diversified student population are not only shared, but also analyzed and reexamined thoroughly through continuous interaction among students and faculty members. The population of students at FOC is not bound with any geographical, cultural, and financial boundary. Hence we have a diversified national and international representation at FOC.
As the Dean of FOC, I am proud to affirm that the success of programs offered at FOC is owed in large part to the dedication of each faculty member. Faculty at FOC is highly qualified having degrees from top notch national and international universities. We also have Faculty members with a significant industry experience and they provide consultancy services in various computing industries. All Faculty members are dedicated and passionate to serve the society, nation, and country through their keen efforts to produce graduates who not only possess technical strength in their field but are also equipped with social and ethical abilities to serve humanity. Our students also play a substantial role in making our program successful through hard work and persistence in finding solutions to challenging issues. Many of our graduates have started their own startups under the supervision of Faculty Members. Hence we train them to become Tech entrepreneurs.
The Faculty at FOC is aimed to produce high quality research and also induce the same capability in their students. Alhamdulillah our Faculty has been continuously getting national and international recognitions of their research conducted with an active involvement of the students.
With a solid curriculum accompanied by rigorous training that is unique to the FOC, the dedicated faculty members all look forward to welcoming new students.
We are devoted to fostering diversity, excellence in leadership and academia – and with the strength of our faculty, we will continue to make an impact on research and development in computing and the development of an ethical society across the world.
WHAT'S IT ABOUT?
Computer Science
The Faculty of Computing aims at producing computer professionals who can meet the challenges of emerging international trends in Information Technology and related disciplines. To achieve this objective, we have a team of highly qualified and dedicated faculty members. We believe that academic excellence is not possible without a quality research environment. High emphasis is, therefore, placed on research. In addition to providing strong theoretical foundations, our academic programs also place due emphasis on the applied aspects of the disciplines. For this purpose, the Faculty has established a strong liaison with Research & Development organizations and the industry.