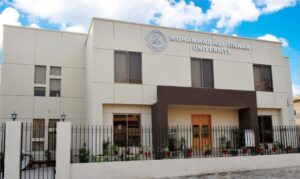 Mohammad Ali Jinnah University's prestigious and spacious Karachi Campus has acquired an enviable reputation for its facilities and quality of education offered. It has an excellent record of success in a wide range of academic and professional training courses. The University is managed by a Board of Governors, with the Governor of Sindh as its Patron.
The programs at MAJU are tailored to meet the real needs of today's economy and employment atmosphere. The curriculum is constantly updated to remain in line with the demands of current technology and new developments. The University also conducts training sessions, seminars, and workshops, which enable our students to apply what they have learned to practical situations.
Research is another area of prime importance at MAJU. Research and Development are the crucial tools which countries use to transform their developing economies into developed nations. With advanced degree programs in Accounting and Finance, Computer Science and Management Information Systems, we are preparing young men and women to meet the challenges of the new millennium.
A Sindh Chartered University (No. S.LEGIS:1(4)/2000)
Mohammad Ali Jinnah University (MAJU) chartered by the Government of Sindh and recognized by the Higher Education Commission (HEC), was established in 1998. The objective in naming the University after Quaid-e-Azam was to offer the highest quality of education, research and patriotism.
Mohammad Ali Jinnah University, unlike other institution which have degree awarding status only, enjoys the privileged status of a comprehensive University. The Charter Inspection and Evaluation Committee of the Government of Sindh has ranked Mohammad Ali Jinnah University as "Very Good" (5 Star). At Mohammad Ali Jinnah University, education is considered an essential service. Hence teaching continues despite natural and human obstructions. All graduates of MAJU are getting jobs in reputed organizations or undergoing advanced studies abroad on scholarships.
The University shall have the powers to provide for instruction in general, technical, professional education, or other disciplines of higher learning, and other subjects as may be prescribed; and in such branches of learning as it may deem fit for the advancement of knowledge as it may determine.
Our Vision
To be recognized as a leading institute nationally and internationally for producing competent professionals who are instrumental in development of a prosperous society.
Mission
Mohammad Ali Jinnah University, through the pursuit of excellence in an ethical environment, is committed to providing a diverse student population the intellectual and technological tools necessary to meet the challenges of the future.
Competent Faculty
Well Equipped Labs
Competitive Curriculum
Conducive Learning Environment
Problem Solving Approach
Entrepreneurial Training
Seminar, Workshops and Colloquium
Industrial Collaboration
Personality Grooming
Ethical Orientation
Projects & Case Based Studies
Inspiration for Community Service
Talent Appraisal and Scholarships
Continuous Quality Improvement