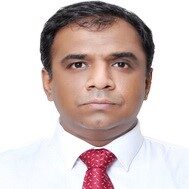 Dean Message
Greetings and welcome to the Mohammad Ali Jinnah University's Faculty of Engineering.
For decades Mohmmad Ali Jinnah University has been at the forefront of engineering education in Pakistan being few of the earliest universities in private sector we have worked on creating a system of education which has wide spectrum and relevancy in modern world.
We offer undergraduate and graduate programs in electrical and computer system engineering and feature state-of-the-art engineering labs. Students at Mohammad Ali Jinnah University learn in a blended learning environment that features contemporary and dynamic learning methodologies which are delivered by nationally and internationally renowned faculty. Our focus on industrial liaison and teaching of the state-of-the-art technologies helps the students to remain relevant in today's fast changing job marketplace.
Our graduates are effective communicators and good leaders with the flexibility and drive to keep pace with modern engineering technologies and the demands of the industry. Our faculty is recognized for exemplary teaching, excellent industrial collaboration and research. Keeping true to our university's moto we strive to live, learn and inspire.Whether you are a incoming or current student, or faculty, I welcome you all to our campus to explore our place and our community of academicians.
WHAT'S IT ABOUT?
Electrical - Computer Systems
The Faculty of Engineering aims at producing scientists and engineers who can meet the challenges of emerging international trends in Science, Engineering and Technology. To achieve this objective, we have a team of highly qualified and dedicated faculty members. Moreover, we believe that academic excellence is not possible without quality research environment. High emphasis is, therefore, placed on research. In addition to providing strong theoretical foundations, our academic programs place outstanding emphasis on the applied aspects of the disciplines. For this purpose, the Faculty has established a strong liaison with Research & Development organizations and industry.
The faculty endeavors to excel in producing competent graduates and engineers in service to society.
Faculty of Engineering strives to provide the valuable contributions to develop solutions for future challenges through pursuit of excellence, intellectual and technological tools necessary to a diverse student population with a focus on ethics and lifelong learning..