Scope of Biotechnology in 2023: Pathways, Jobs, and Future Outlook
Posted by

Date

October 10, 2022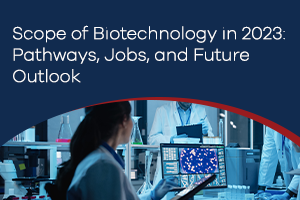 Biotechnology is one of the most advanced, innovative, profitable, and developing areas of science and technology. The scope of biotechnology expanded, especially after COVID '19 put the world to a halt. Why?
People looked up to medical scientists as they were the only group of people who could take us back to safety. Not just any medical expert either; those with biotechnology degrees could create vaccinations and medications to fight the virus.
What is Biotechnology?
The term "biotechnology" refers to a field of science that uses biological systems, living creatures, or parts thereof to manufacture or produce various products. The branch deals with physics, chemistry, biology, engineering, and mathematics theories. It merges them to build technology for the enhancement of human life.
Students of biotechnology often specialize in one of four areas:
Medicine
Energy
Agriculture
Environment
Although, as a biotechnologist, you can work in almost any sector. However, these are the most common areas of specialization for biotechnology students.
The Courses of Biotechnology
Jinnah University offers the best program for BS Biotechnology in Karachi. You can take their four-year bachelor's or two-year master's courses.
Furthermore, biotechnology is a field in which you have a wide range of opportunities to develop skills and experience. Many areas of human life are influenced by biotechnology and vice versa. Naturally, this interdisciplinary sector provides informal education in a variety of fields, such as:
Genetic Engineering
Health Biotechnology
Pharmaceutical Biotechnology
Environmental Biotechnology
Agricultural Biotechnology
Bioinformatics
Genomics
Biopython
Biochemistry
Computer Programming
Nano Biotechnology
Food Biotechnology
Ecology, Diversity, and Evolution
The Skills Our Biotechnology Program Will Develop in You:
Apart from the high scope of biotechnology, there are so many skills you will develop during your educational journey at Jinnah University. Our BS and MS biotech programs will teach you transferrable skills that will be helpful to you across many industries.
Here are some major skills that you will acquire during your time at the best university for BS Biotechnology in Karachi:
Entrepreneurship Skills: You will need to be familiar with fundamental business procedures because the most successful biotechnology work is now being developed by startups and small businesses.
Communication: Your discoveries will be useless if no one learns about them. This is why our biotechnology programs place a strong emphasis on improving your reading, writing, and public speaking skills.
Quantitative Skills: to produce maximum effects, you will learn to collect data and present it effectively at Jinnah University.
Lab Work: Our staff will guide you and teach you how you can operate in the lab safely. You will also learn to follow the standard lab protocols.
Why Pursue a Career in Biotechnology?
If you think there is no scope of BS Biotechnology, we are here to inform you that you can have a bright future by pursuing your career in this field. We have described some reasons why you should opt for biotechnology as your profession. Let's have a look:
A One-of-a-Kind Interdisciplinary Combination of Biology, Chemistry, Mathematics, and Physics
Exciting Research Projects
Innovative and Exciting Career Opportunities in the Scientific and Administrative Sector
Build innovative technologies for agriculture, healthcare, medicine, industrial processes, and environmental management.
Intellectually stimulating and financially rewarding
Explore a Diverse Range of Interdisciplinary Areas of Specialization
Work for the Betterment of Society
Job Opportunities with a Biotechnology Degree
After graduating from the best university for BS Biotechnology in Karachi, i.e., Jinnah University, a new door of possibilities will open for you. Whether you decide to take their BS program or choose to study in their Master's course, you will find an employment option available for you.
Additionally, biotechnology has expanded its wings so far that biotechnologists are now in demand in many unexpected industries such as textiles, food, business, judicial, and so on.
In addition, if you are not interested in more typical biotechnology job paths such as research labs, clinical institutions, or medicine, you can still find a wide range of options for employment in a strong-standing career.
You can work as:
Forensic Science Technicians
Medical Scientists
Microbiologists
Environmental Biotechnologist
Geneticist
Molecular Biotechnologist
Epidemiologist
R&D Scientist
Biochemist
Biophysicist
Bio-manufacturing Specialist
Bioproduction Specialists
The Future of Biotechnology
Biotechnology is one of the most interesting industries right now. Aside from the patients who will profit from the newly created drugs and therapies, no other industry offers investors the spectacular returns that biotech stocks do.
If you are searching for a long-term career, you cannot go wrong with the development of your career in biotech. Why? The reason is that the industry has such a wide range of businesses and roles, from manufacturing to development to regulatory to commercial release.
So, in terms of career options and employment generation, biotechnology will play a critical and significant role in the next few years.
Furthermore, with the increasing number of serious diseases and pandemics, biotechnology will become a survival aid in the next few years. With a global population exceeding 9 million people, we will also require new agricultural technologies. In addition, biotechnology has a significant impact on and contributes to the economy.
Thus, overall, biotechnology will play an important role in the future.
Choose Jinnah University's Biotechnology Program Now!
If you have an interest in the field of biotechnology and you want to pursue your career in any of the pathways described above, you have a golden chance to get enrolled in a prestigious program in your desired field while remaining in your country. You can get more information about our program here.