Spring 2023 Admissions Open: Apply to MAJU's Undergrad and Post-Grad Courses Now!
Posted by

Date

January 9, 2023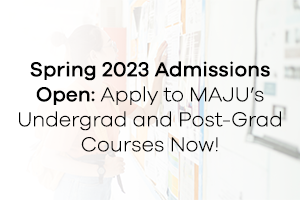 Mohammad Ali Jinnah University is a famous research-oriented educational institute that equips its students to make a permanent impression on the world. The university, which is situated in the heart of Karachi, instills in its students a lifelong intellectual passion. Have you heard about our admissions open for different undergraduate and postgraduate courses? 
So, apply now to MAJU and become a part of our community. We aim to equip a diverse student body with the knowledge and capabilities needed to confront the challenges of the future by striving for excellence in an ethical and socially responsible manner.  
Students develop into successful global citizens as a result of world-class faculty, well-equipped laboratories, and a focus on research. So, grab the opportunity of our admissions open and start your educational journey with us now.  
Top 6 Reasons to Choose MAJU for Undergrad and Postgrad Programs
You must be thinking, "What else is there for you to choose MAJU?" Well, there are a lot of reasons, and I am going to discuss them in detail. So, keep reading to find out.  
1. A Broad Range of Courses Available
The best thing about studying at MAJU is that you will have a wide range of courses available from which you can select. Whether you want to study a bachelor's program or want to pursue your degree in post-graduate courses like Master's, M.Phil., or PhD. MAJU has every program for you. and the best part is that our admissions open nowadays. So, apply right now for spring admissions 2023 and get yourself enrolled at MAJU.  
2. Purpose-Built Campus
The campus is designed in such a way that you have access to every educational facility. Digital media is available in air-conditioned classrooms. In addition, the campus has a continuous power supply so that you can continue your studies without any interruption. Don't miss the chance to apply as our admissions open now.  
Similarly, there is a cafeteria where hygienic, clean food is served. Also, it is a fantastic location to interact with your friends. You can have conferences, seminars, workshops, and other activities in the auditorium. Additionally, security guards are constantly present at the university's entrances to guarantee your safety.  
3. Qualified Faculty
We have really capable instructors on our campus that can give you the core concepts and information. The lecturers who will guide you regarding your chosen fields are experts in the area. They make sure you understand everything and learn it, giving you the theoretical and practical information you need to succeed in your career. 
4. Fully Equipped Laboratories
What are the requirements for professional success? the practical knowledge. Anyone can memorize what is stated in the books, but if you do not know how to put that knowledge into practice, you will not be successful. For this reason, MAJU's labs are well-equipped. 
In addition, MAJU's labs are equipped with the most recent technologies. We encourage every student to explore the boundaries of their potential in our top-notch labs. Consequently, you will receive training for your working life while studying at MAJU after applying for spring 2023 admissions as our admissions open these days.  
5. Societies and Clubs 
Another reason MAJU is the top university in Pakistan for software engineering is that it does not just emphasize educating you. It also emphasizes encouraging your own personal development. You can join a variety of societies and clubs at our university to experience a well-rounded campus life, which is our goal. 
Here are some of them: 
MAJU engineering society

 

Business administration society

 

Personality and Character Development Society

 

Mental Health Club

 

Plan It Society

 

Performing Arts Society

 

MAJU Sports Society

 
6. Scholarships and Incentives
Everyone should have access to education so that we may produce educated citizens who can support our country's progress in the international community and assist it in overcoming socioeconomic issues. 
MAJU provides its students with a variety of scholarships and incentives to ensure that they have easier access to higher education. These include: 
Merit-Based Scholarships

 

Financial Aid, Contingency, and Disabled Scholarships

 

PGC Scholarships

 

Siblings Scholarships

 

MAJU Alumni Scholarships

 

Faculty Members and Staff Scholarships

 
So, if you are unable to afford to pay for your education, you need not worry at all. You can apply for the scholarships as soon as you are admitted to MAJU and study without stress. This is only one of the numerous factors that make MAJU the best university in Pakistan. Our admissions open these days, and you have the chance to apply now.  
Spring 2023 Admissions Open at MAJU
Hurry up now, do not lose a second, and enroll yourself on one of Muhammad Ali Jinnah University's undergrad or postgrad courses.  
For more information, you can always contact us at info@jinnah.edu.