5 Skills You Should Learn in Your Undergraduate Degree 
Posted by

Date

September 27, 2023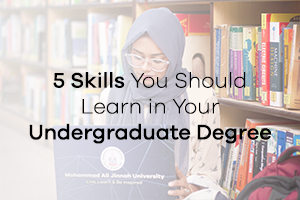 Having an undergraduate degree means that you can choose whether to continue pursuing a master's degree or if you want to get a professional job. If you wish to continue to a higher education, of course, you will learn more knowledge. On the other hand, if you are ready to do a professional job, then you should use the skills and knowledge you got from your undergraduate study.  
Accordingly, this is why you need to make your learning life as an undergraduate student efficient. This means that you should learn some skills. Definitely, there are various skills you can learn in your undergraduate degree. Let's explore the top 5 skills you should learn! 

Networking
The first skill you should learn is networking, or you might know this as "relationship building." Basically, networking can happen every day in our interactions with other people. Yet, having excellent networking skills will further help you find a job. Additionally, it will be easier for you to build strong interpersonal relationships with your co-workers.  
During your undergraduate degree study, you can get many opportunities to learn relationship-building skills.  
Here is what you should do: 
Take part in a club or organisation

 

Attend some professional events or conferences

 

Actively interact with community leaders

 

Extend your knowledge by signing up for a study abroad program

 

Participate in a cooperative work program

 
Global Thinking
There are many people from diverse cultures you will have to work within a workplace. Thus, you need to, at least, understand this cultural diversity. Well, you can start learning it while completing your undergraduate degree.  
When you study for an undergraduate degree in a reputable university, such as MAJU (Mohammad Ali Jinnah University), you will get a big opportunity to learn cultural diversity.  
Yes, MAJU provides several general courses in the areas of: 
Humanities

 

Ethics

 

Social sciences

 

Language

 

Communication skill

 
All the courses above come with the core and elective courses of the discipline. 
In the end, by mastering global thinking skills, you are preparing yourself to take part in the competitive business world today.  
Critical Thinking
Critical thinking skills are highly essential for you to learn. With this skill, you will be able to assess situations thoroughly. Moreover, you will be able to present some alternative solutions to problems that may arise.  
In addition, by having critical thinking skills, you can then grow your project management skills. This means you can then do the planning, organization, scheduling, resource management, team building, and adaptability.  
Communication
Having excellent communication skills is compulsory if you wish to step into a professional workplace. For sure, you will have to deal with many people in your professional life. Thus, if you lack communication skills, you will only waste your professional life.  
Luckily, you can sharpen this skill during your study as an undergraduate student. When you pursue your undergraduate degree at MAJU, you will meet a diverse student population. Hence, you will get the chance to communicate daily with other students from different backgrounds.   
Time Management
Next, having effective time management skills will be essential. This applies especially if you need to fit in with some social activities along with a busy program of study.  
When you have many demands on your time, it is essential for you to be sensible about how you manage your schedule. By managing your schedule properly, you can avoid becoming stressed.  
You can keep a calendar on your phone with all your appointments to give you a reminder. Or else, you can also maintain a 'To Do' list with all your tasks and deadlines. If you can have a good grip on time management skills during your undergraduate degree study, it will be easier for you to manage your time in your professional life later. 
Learn All the Skills You Need at MAJU!
The BS program offered by Mohammad Ali Jinnah University, Karachi, focuses on producing individuals with high quality broad vision and strong ethical values. We aim to generate graduates with well-balanced personalities, general awareness of social issues, along with basic reasoning capabilities.  
At MAJU, you can choose from various BS degree programs, including: 
BBA or Bachelor of Business Administration

 

BS Computer Science

 

BS Software Engineering

 

BE Electrical Engineering

 

BE Computer Systems Engineering

 

BS Accounting and Finance

 

B.Ed. or Bachelor of Education

 

BS Biotechnology

 

BS Biochemistry

 

BS Psychology

 

BS SCDA or Bachelor in Supply Chain and Data Analytics

 

BS English

 

BS in Financial Technology

 

BE Software Engineering

 
All the programs above will be for 4 years or 8 semesters with different credit hours.  
When you choose Mohammad Ali Jinnah University, not only will you graduate as a prestigious community.  
More than that, you will also receive countless benefits, including: 
World-Class Faculty

 

Academic Excellence

 

High-Impact Research

 

Advanced Education Technology

 
So, what are you waiting for?  
Start learning at MAJU and get excellent skills to help you in your professional life. Get your admission submitted here!