Advantages of IoT – Top Reasons Why You Should Learn IoT at MAJU
Posted by

Date

October 9, 2023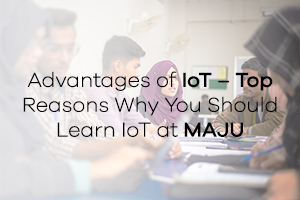 With the inventions of IoT-enabled products in the market, the Internet of Things (IoT) is no longer a futuristic technology today. Instead, the IoT is a hot topic of discussion that has become far more mature right now. Well, we can see how many people and businesses use IoT to complete their daily tasks. In fact, there are some beneficial advantages of IoT that we can mention. Plus, considering how it will surely shape our future, there are some reasons for us to learn. So, if you are living in Karachi and want to learn more about IoT, you can learn everything at MAJU. Well, let's delve into the reasons to learn it and the advantages IoT offers to simplify our lives! 
What Is IoT?
In brief, IoT is a network of networked computing devices, machinery, items, animals, or people that may exchange data over a network. The best part is that this data-exchanging process happens without requiring human-to-human or human-to-computer interaction. So, a "thing" on the Internet of Things refers to an artificial device that can receive an Internet Protocol (IP) address and data transmission through a network.  
The Beneficial Advantages of Iot
No doubt, the Internet of Things (IoT) continues to have an impact on our personal and professional lives. Better yet, there are some beneficial advantages of IoT that we can get.  
Better Connectivity
Now you can say goodbye to the manually operating way for a different device. With IoT, we can easily operate multiple things from one device. An easy example we can mention here is your very own smart phone.  
Improved Efficiency
Better connectivity leads to a lesser amount of time we would spend performing the same tasks. For instance, you can get voice assistants like Apple's Homepod. Or else, you surely know Amazon's Alexa can provide answers to your questions. With these voice assistants, you do not need to pick up your phone or turn on your computer. 
Wellness
Today, there are many ways to monitor your health goals using the IoT. For example, a Withings scale can record your weight and body composition. Moreover, this scale will provide suggestions and even reward your progress towards weight loss goals. 
Conservation
Some IoT developers are devising ways to use the IoT-enabled products to monitor city conditions. In fact, today you can easily know about the traffic, air quality, electric/water usage, and environmental factors. Accordingly, this can assist us to come up with solutions to conserve resources. 
Top Reasons Why You Should Learn IoT 
Without any doubt, there are beneficial advantages of IoT we can never deny or skip. Hence, if you are interested in learning IoT, you are already on the right path.  
Here are the top reasons why you should learn IoT!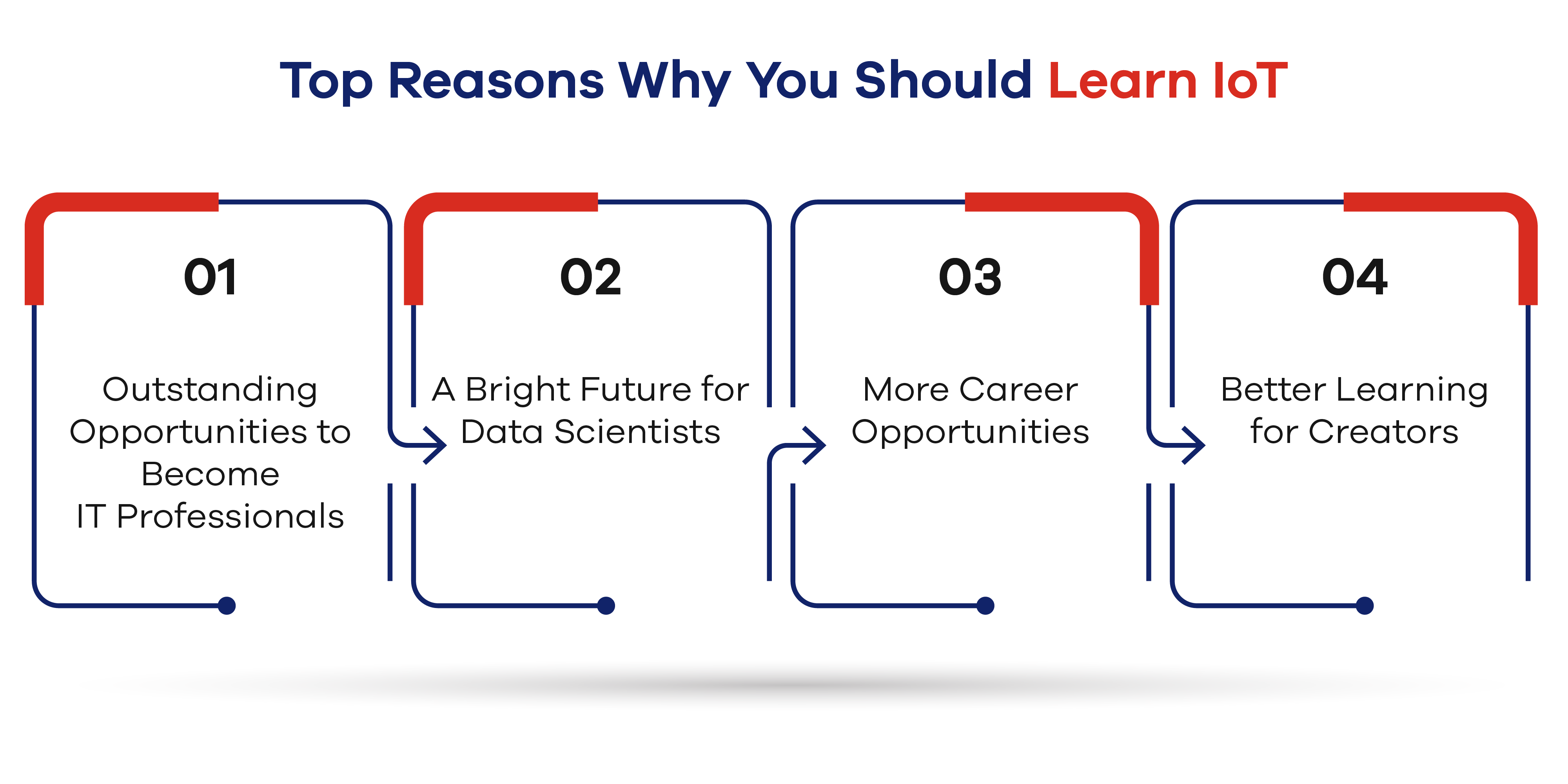 Outstanding Opportunities to Become IT Professionals
IoT is revitalising the IT industry and giving us a digital experience. Accordingly, the Internet of Things also offers outstanding opportunities to Technical Architects, Solution Architects, or IT Professionals.  
A Bright Future for Data Scientists
We know that information science and analysis are the inescapable elements of the web. After all, the ideal information should be aligned with each information arrangement that is generated and created. Well, this is the perfect scope to choose if you wish to work as a data scientist. Yes, IoT offers you a bright future and even for exploring new opportunities. 
More Career Opportunities
We must admit the Internet has emerged as the go-to medium for all business endeavours. Thus, knowing the proper methods is essential to using the internet well. Fortunately, you can learn all vital advice and strategies through learning computer science programs. Accordingly, these programs are worthwhile for you to devote your time, whether you decide to launch your own company or choose a better strategy. 
Better Learning for Creators 
Individuals who have been using IoT need to recognise that their journey did not end after they discover it. Instead, it gives kids more creative options. Even better, IoT helped you discover and using the applications is the best thing you can do. As a result, you will get more self-confidence with better communication and decision-making options. Thus, this opportunity is ideal if you are interested in careers because you can construct, manage, and even comprehend the system. 
Why Should You Learn IoT Through Computer Science programs at MAJU?
The department of Computer Science at Mohammad Ali Jinnah University (MAJU) provides every academic facility you need to excel in the world of information technology. By choosing MAJU, you will be able to create, share, and apply knowledge in Computer Science and Software Engineering. In addition, you will get the chance to learn interdisciplinary areas that extend the scope of Computing and benefit humanity. 
MAJU provides innovative programs in Computer Science, including: 
Undergraduate 
Graduate 
MS Computer Science

 

MS Software Engineering

 
Doctorate 
So, if you want to get the advantages of IoT by learning Computer Science programs, simply get your admission at MAJU today!