How Cloud Computing Benefits Pakistan?
Posted by

Date

October 18, 2023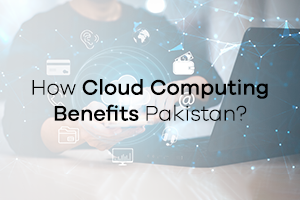 Cloud computing has been around in the business world for almost two decades. Accordingly, it benefits many countries, including Pakistan. Yes, cloud computing benefits Pakistan with its excellent impact on IT infrastructure. Thus, moving business operations to a cloud-based platform is highly considerable. However, some businesses still rely on outdated processes because they do not understand the benefits. Well then, let's explore the benefits of cloud computing further! 
A Brief Intro to Cloud Computing
First of all, let's know more about cloud computing. 
So, the term "cloud" means storage that we can access through the internet. It is a model that allows us to have access to an easy, on-request network. Even better, it provides a network of computing resources that are quickly accessible. This means we do not need any interaction with the service provider or management efforts.  
In general, there are three main types of cloud service models include:  
Infrastructure as a service (IaaS)

 
This is on-demand access to help organisations compute, storage, networking, and virtualisation. 
Platform as a service (PaaS)

 
Hardware and software resources for cloud application development. 
Software as a service (SaaS)

 
This option is a full-application stack as a cloud service. Accordingly, this cloud service includes the maintenance and management of underlying infrastructure to application software. 
The General Benefits of Cloud Computing
No doubt, cloud computing offers wonderful benefits for businesses that implement it.  
Have a look at some general benefits of cloud computing! 
Scalability and Flexibility
Yes, cloud computing gives businesses more flexibility. Now, they can quickly scale up resources and storage to meet business demands, without investing in physical infrastructure. Better yet, businesses do not need to pay or build infrastructure to support their highest load levels. This means that businesses will not need to undergo a complex (and expensive) update to their IT infrastructure. Eventually, this flexibility can make a significant difference to the overall efficiency of any business. 
Automatic Software Updates
Another excellent thing about cloud-based applications is that they automatically refresh and update themselves. Hence, this will be better instead of forcing the IT department to perform a manual organisation-wide update. In addition, it will save more time and money spent on outside IT consultation. 
Advanced Security
The main job of cloud host is to carefully monitor security. This is more efficient than a conventional in-house system. So, basically, the key to this advanced security is the transmitting process of data encryption over networks and storing it in databases. By using encryption, all the information will be less accessible by any unauthorised person. 
Better Mobility
Cloud computing applications allow easy access to corporate data via smartphones and devices. Through the cloud, businesses can offer conveniently accessible information to their staff. This will, as a result, create a better work-life balance. 
Future Insight
Many cloud-based storage solutions offer integrated cloud analytics for a view of data. Thus, by storing their information in the cloud, businesses can easily implement tracking mechanisms. Then, they can build customised reports to analyse information organisation-wide. From those insights, they can increase efficiency. Also, they can build action plans to meet their organisational goals. 
How Cloud Computing Benefits Pakistan in Different Industries?
Cloud computing benefits Pakistan in different industries. For example, entrepreneurs can now set up a business and put the applications almost for free on the cloud. Better yet, the process doesn't require installing a huge IT infrastructure, which is expensive. This is why telecom, banking, and manufacturing sectors have started adopting cloud-based applications. The best thing is that these cloud-based applications make their solutions impactful and cost-free.  
Moreover, in Pakistan, cloud computing has changed many industries quite a bit. Back in the previous decade, we might have seen data storage that required heavy regular maintenance. However, today, the cloud has taken over. Yes, cloud computing helps the country to do better data management.  
In addition, the demand for cloud services in Pakistan is increasing day by day. Moreover, we can see the realisation of extra capital investment on owning the IT infrastructure. Hence, more businesses are shifting towards the adoption of cloud technologies. 
In other words, cloud computing benefits Pakistan in several ways, including:
Cost reduction

 

A more user-friendly system

 

Better accessibility

 

More privacy of the data

 

Better management

However, we cannot deny that a huge gap persists. Yet, different cloud-based platforms are paving their way into the growing IT industry of Pakistan. 
The Need for Cloud Computing Experts in Pakistan
As cloud computing benefits Pakistan in various ways, definitely, there is a need for experts in this field.  
So, if you are interested to become a cloud computing expert, you must have general skills, such as: 
Technical Skills – Proper knowledge of HTML and computing fundamentals.

Business Concepts – Understand the terminologies such as ROI (Return on Investment), marketing strategies and business plans.

 

Data Analysis – Handling immense data and optimally using ERP systems.

 

Data Security – Focusing on the security of data and knowledge of network security.

 

Project Management – Good understanding of risk management, service agreements, and integration with other processes.

 
To get all the skills above, you can choose BS Computer Science program from Mohammad Ali Jinnah University.  
During this BS Computer Science program of 8 semesters, you will master the studies of: 
Data science

 

Technical report writing

 

Artificial intelligence

 

Communication

 
Yes, speaking of cloud computing benefits Pakistan, getting a BS degree in computer science can help you take the most advantage of cloud-based applications. Hence, it is something you should not skip!