A Detailed Guide to MAJU's PhD Admissions for Spring 2023
Posted by

Date

January 12, 2023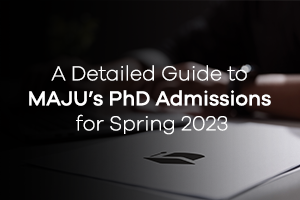 The highest level of education one can obtain is a PhD (Doctor of Philosophy), which is a doctoral research degree. Muhammad Ali Jinnah University's PhD admissions for spring 2023 are open. So, choose MAJU and start your doctoral degree here.  
What is a PhD Degree?
A PhD is a globally recognized postgraduate academic degree offered by universities and higher education organizations to students. You will earn this degree by submitting a thesis or dissertation that is the result of substantial and original research in your chosen subject. 
PhD degrees differ according to where you reside and what subject you pursue. Around two to three years of full-time study are typically required to earn a PhD. You will conduct research and write a thesis that makes a unique contribution to the field. 
However, if you are looking for an institute to study PhD at, MAJU is the place to be, and our PhD admissions are also open. So, what are you waiting for? 
PhD Programs at Muhammad Ali Jinnah University
Apart from different undergraduate and postgraduate courses, MAJU also offers doctoral programs to its students. So, if you want to study PhD in Karachi, Pakistan, I would recommend Muhammad Ali Jinnah University. And the best part is that our PhD admissions 2023 are open, so, you can apply right now.  
Categories of PhD Programs at MAJU
MAJU offers three doctoral studies in these three fields.  
1. PhD Management Sciences
PhD Management Sciences allows you to become a research leader. For the most ambitious individuals in the country, the curriculum offers top-notch research facilities and education. The innovative coursework also consistently pushes you to grow as a student and advance your research career.  
Additionally, it will assist you in developing into a data-driven policymaker in both the private and governmental sectors. To help you improve your presentation and communication abilities, our experts will teach you a variety of approaches.  
So, apply to MAJU's PhD Admissions for spring 2023 now and enroll yourself in this program if you want to pursue management sciences.  
Eligibility Criteria 
If you are applying to PhD admissions 2023 and want to pursue management sciences, the admissions criteria for this degree are as follows: 
Completion of 18 years of higher education (MBA/MS/M.Phil.) in a relevant field with a CGPA of at least 3.0 out of 4.0.

 

Depending on the previous field of study, the department may prescribe deficiency classes.

 

Admission Exam.

 

Interview.

 
2. PhD Computer Sciences
By studying for a PhD in computer science at Jinnah University, you may join a thriving and dynamic network of researchers and scholars. We encourage students to generate unique ideas and translate those into research findings, software developments, and hardware systems. 
The program's goal is to support high-quality, cutting-edge research to meet society's demand for qualified professionals. Apply for PhD admissions at MAJU right now.  
Furthermore, by studying at MAJU, you will be: 
Informed about the newest technologies

 

Adept at providing leadership in both academia and business 

 

Deliver the kind of service that will benefit all industries in which you work. 

 
Eligibility Criteria
For the PhD in computer science, the admission criteria are as follows: 
Master's degree in a relevant field. The graduate admissions committee will determine relevance.

 

A minimum CGPA of 3.0/4.0 is required (semester system).

 

Admission test/test authorized by HEC.

 

Interview.

 
3. PhD Electrical Engineering
You can land top jobs in business and academic research with a doctorate in engineering. Similarly, you can land permanent jobs at some of the best universities in the country. You can pursue a PhD electrical engineering in a variety of areas because our Department of Electrical and Computer Engineering conducts a wide range of research activities. 
These areas include: 
Robotics & Intelligent Control Systems

 

Signal & Image Processing

 

Power Electronics & Renewable Energy Systems

 

And, Communication & Sensors

 
So, apply right now if you want to get a PhD in engineering, as our PhD admissions are now open.  
Eligibility Criteria 
To get enrolled at MAJU for this program, the admission criteria are as follows: 
MS in a relevant field of study

 

Minimum CGPA of 3.0/4.0 (Semester System).

 

HEC-approved Admission Test.

 

Interview.

 
Why MAJU for PhD Degree?
There are so many reasons to be studying at MAJU for your doctoral programs apart from the extensive curriculum. These are as follows: 
Purpose-Built Campus

 

Expert and Qualified Faculty

 

Educational Facilities

 

Vibrant Campus Life

 

Societies and Clubs

 

State of the Art laboratories

 

Fully Stocked Library

 

Student Centric Management

 

Scholarships and Incentives

 

Shuttle Service for Faculty and Students

 
So, you will have the best tie of your educational life here as you will have every educational facility available for you in addition to the well-balanced and fun campus life.  
PhD Admissions 2023 at MAJU
Do not waste a second and apply to our PhD admissions for spring 2023 and secure a seat right now.  
For more information, you can always contact us at info@jinnah.edu.