What Factors Make MAJU the Right Choice to Study Master's in Computer Science?
Posted by

Date

January 16, 2023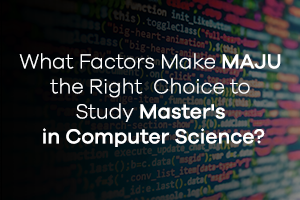 Are you confused about doing a master's in computer science? Do you want to know whether it is worth it or not? And why should you choose Muhammad Ali Jinnah University for your master's degree? We have answers to all the questions. Keep reading to find out.  
Why Should You Study a Master's in Computer Science?
With a master's in computer science, you can learn more difficult concepts about subjects like programming, computer architecture, computer language theory, and software design. If you already work in computer science, getting this degree could help you advance or make you more desirable as a job applicant.  
Furthermore, your master's degree could help you catch up and gain confidence in your growing sector if you are switching from another field to computer science. Following are the reasons to have a master's in computer science degree:  
You reach a professional ceiling or a career peak.

 

Most job postings for the jobs you are interested in include "Master's recommended."

 

You want to carry out research.

 

Gain Access to Competitive Companies

 

Acquire specialized expertise that can assist you to improve your career.

 

Make an impression to stand out for senior and leadership roles

 

You are bored with your current job or field of computer science and want to switch to some job that requires 

master's in computer science. 

 

Everyone in your desired profession appears to have a 

master's in computer science

 and you do not want to be left behind in this competition for your desired job. 

 

A master's degree is required to apply for a particular doctoral program.

 

Your long-term objectives include managing projects or people.

 

You wish to increase your income.

 
So, this clearly shows that doing a master's is totally worth it, as it opens a variety of career options for you, and you get to earn more. Now, let's get to the question of whether you should go for MAJU for your master's in computer science.  
Top Reasons to Choose MAJU for Master's in Computer Science
Let me tell you why you should be completing your master's at Muhammad Ali Jinnah University. This is not limited to gaining top-notch education. MAJU is much more than just providing you with the necessary knowledge and information.  
1. Purpose Built Campus 
The university campus has been designed in a way that you have a smooth and comfortable academic journey. The classrooms are well equipped with digital media and tables, chairs, and other facilities. In addition, there is a cafeteria serving hygienic food. Similarly, to ensure your safety, we have security guards posted at the university gates.  
2. Experienced Faculty
A Master's in computer science degree requires hard work as it is relatively a difficult course. So, to help you prepare and teach you every concept, MAJU has experienced and highly qualified faculty. As a result, you will be learning from the best professors in town who have years of experience in the field. in addition, you can ask for their guidance regarding your educational or professional life.  
3. Advanced Curriculum
The master's in computer science program has an extensive curriculum in computer science. It offers advanced training in the field's basic areas as well as in a variety of related fields, like semantic computing. Additionally, through the research thesis, you will also receive first-hand training in conducting research. You can pursue positions in R&D, business, academia, defense organizations, etc. 
4. Laboratories and Library
To provide you with hands-on experience in the field, MAJU encourages you to put your theoretical concepts into practice in state-of-the-art laboratories. As a result, you gain practical exposure. Similarly, there is a library with a wide range of academic and reference books for your comfort. So, you can prepare for your quizzes and exams in a peaceful environment.  
5. Scholarships and Incentives
MAJU offers different scholarships and incentives to honour their hardworking students. Similarly, you will get a fee concession if you cannot pay for your education. All you have to do is apply for the required scholarship when you apply for the master's in computer science program. Here is the list: 
Merit-Based Scholarships

 

Financial Aid, Contingency, and Disabled Scholarships

 

PGC Scholarships

 

Siblings Scholarships

 

MAJU Alumni Scholarships

 

Faculty Members and Staff Scholarships

 
6. Campus Life
There is so much more to MAJU than education. They aim to provide you with a well-balanced campus life. There are so many societies and clubs that you can join and be a part of different events and seminars. This will give you a chance to explore your hidden skills and lead your personal growth.  
These are the societies and clubs that you can join: 
Personality and Character Development Society

 

Mental Health Club

 

Plan It Society

 

Performing Arts Society

 

MAJU Sports Society 

 
Master's in Computer Science at MAJU
MAJU's spring admissions 2023 are open nowadays. So, you can apply to Muhammad Ali Jinnah University right now and be a part of their community. For more information, contact them at info@jinnah.edu.