Why Should You Choose MAJU for BS Accounting and Finance?
Posted by

Date

January 19, 2023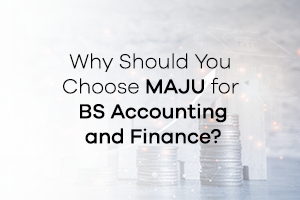 Have you decided to study BS accounting and finance for your bachelor's? Are you looking for the best institute that offers this program? Well, you have come to the right place.  
Muhammad Ali Jinnah University, or MAJU, is the best university for your graduate or post-graduate studies. There are so many reasons to choose MAJU for your BS accounting and finance course. We will get to that later, as first, you should know what accounting and finance are.  
What is Accounting and Finance?
Accounting and finance are the processes of recording and evaluating company operations. Accounting deals with information analysis for many business functions, whereas finance is just concerned with an organization's financial resources. So, you can avoid failure by making smarter judgments in the future with an understanding of where your incoming and outgoing cash flow comes from.  
The BS Accounting and Finance program is designed to give students a solid foundation in the principles of business and management. In addition, the course will help you enhance the mathematical and analytical abilities needed to become responsible, knowledgeable, and ethical financial managers. 
Top 6 Reasons to Choose MAJU for BS Accounting and Finance
After deciding on the course, you want to pursue your bachelor's degree, the next important thing is to select the institute where you will be gaining an education. We would highly recommend MAJU for this purpose. Why?  
We have described a list of key reasons that show why MAJU is the best university for a BS accounting and finance course.  
1. The Programs' Objectives
We have designed our program with the following objectives in mind: 
The graduates will exhibit practical accounting and financial understanding.

 

The students will display the capacity to carry out operational and strategic managing activities in different businesses.

 

The graduates will have a commitment to value diversity and conduct themselves professionally.

 
So, by the time you graduate, you will have a complete understanding of what this field is. You will be prepared to excel in the field after completing your BS accounting and finance from MAJU.  
2. Experienced Faculty
What makes a university the best? The faculty along with the educational resources. If your teachers are unable to pass on the required information, you will understand the subjects conceptually. This will lead you to poor practical performance and failure in professional life.  
That is why we have ensured that we have qualified and experienced faculty at our campus. The professors and instructors have experience in the field and have been teaching the BS accounting and finance course for years. So, you will be studying under the supervision of competent teachers.  
3. Well-Equipped Laboratories and Library
Even though BS accounting and finance is not a science subject, you will still need access to the computer lab for studying and research. So, while your journey here at MAJU continues, you can benefit from the well-equipped labs anytime you want.  
Similarly, the university campus has a fully stocked library that you can use when you need a quiet place to study. In addition, you will find a diverse variety of books on every discipline if you need additional help while preparing for quizzes and exams.  
4. Scholarships
To facilitate our students and promote education as much as we can, we offer different kinds of scholarships. And these incentives are not limited to need-based concessions; we believe in rewarding our hardworking students. That is why we provide merit-based and other scholarships.  
The list is as follows: 
Merit-Based Scholarships

 

Financial Aid, Contingency, and Disabled Scholarships

 

PGC Scholarships

 

Siblings Scholarships

 

MAJU Alumni Scholarships

 

Faculty Members and Staff Scholarships

 
5. Extensive Curriculum
The BS accounting and finance curriculum is not only HEC-guideline-based but also has been designed with so much dedication that you will learn every basic principle of the field. so, when you pass out from university, you will be equipped with the following learning outcomes: 
Cross-functional Knowledge

 

Problem Analysis

 

Modern Tool Usage

 

Business Solution

 

Corporate Social Responsibility

 

Entrepreneurial Skills

 

Ethics

 

Individual and Team Work

 

Communication Skills

 

Management Skills

 
6. Campus Life
What else is there at MAJU apart from education? Because we understand that if you do not have any fun, you will get exhausted. So, to engage you in different healthy extra-curricular activities that lead you to personal growth and development, there are different societies and clubs that you can join.  
Here are different societies that you can join: 
MAJU engineering society

 

Business administration society

 

Personality and Character Development Society

 

Mental Health Club

 

Plan It Society

 

Performing Arts Society

 

MAJU Sports Society 

 
BS Accounting and Finance at MAJU
So, we have described multiple reasons why you should choose Muhammad Ali Jinnah University for BS accounting and finance. So, enrol yourself at MAJU right now as our admissions for spring 2023 are now own. So, have the best time of your educational life with us.