BS Software Engineering in Pakistan
Posted by

Date

February 2, 2023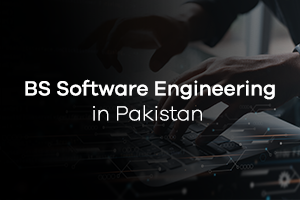 BS Software Engineering is a four-year degree program that aims to prepare you for high-paying job opportunities in the future. The modern curriculum is structured in a way that exposes you to advanced practical experience and theoretical abilities in software development and maintenance.  
In this article, you will learn everything about the field of software engineering, including the subjects, the eligibility criteria, the scope, the job opportunities, and which university is the best for a BS software engineering degree. But first, you should know what software engineering is.  
What is Software Engineering?
Software engineering is the process of assessing user requirements, followed by the design, development, and testing of software applications that will meet those requirements. 
Scope of BS Software Engineering in Pakistan
Due to the overall advancement of information technology and its applications, the scope of a software engineering degree is increasing all the time. This degree is in high demand in Pakistan's government and private sectors. 
There are several companies in Pakistan that hire software engineering graduates. In addition, if you are a fresh graduate with no previous experience in the field, I have a piece of good news for you: various websites provide software engineering graduates with work opportunities.  
As a result, software engineering in Pakistan has a lot of potential. However, just having a degree in software engineering does not guarantee a good job. The most important factor is your skills. So please concentrate on acquiring skills as well.  
How Can You Become a Software Engineer in Pakistan?
Here is how you can become a software engineer in Pakistan.  
You have to earn an F.Sc. degree with majors in computer science, mathematics, and physics with at least 50% marks or equivalent. Thus, you will be eligible for admission to the program in computer and 

BS software engineering.

 

Many private and governmental universities in our country provide students with opportunities to enroll in

software engineering 

programs. Afterwards, you must submit an application to any university that offers the course.

 

You have to take the university's admission exam. However, your ultimate evaluation will be based on your results.

 
So, if you score well and get accepted, you will finish your engineering degree in four years. The 

software engineering course

 lasts four years and is divided into eight semesters.

 

After completing your degree, you will require some experience to become a professional engineer to earn a handsome salary. Software Engineering is a high-paid career option.

 
Note: You must know whether the university is PEC-recognized or not before applying for admission to any university because the Pakistan Engineering Council is the regulatory body for engineers in Pakistan. The PEC grants registration certificates to only those graduates who complete their engineering studies at universities offering engineering programs. 
What Subjects You Will Study in BS Software Engineering?
There are several institutes in Pakistan offering this degree. Every university designs the curriculum according to the program objectives. However, if you choose Muhammad Ali Jinnah University for BS software engineering, the subjects you will study throughout the eight semesters are as follows: 
Computer Programming

 

Object Oriented Programming

 

Data Structure and Algorithm

 

Software Engineering

 

Database Management Systems

 

Human-Computer Interaction

 

Software Construction and Development

 

Web Engineering

 

Information Network and Security

 

Game Programming

 

Cloud Computing

 

Software Quality Assurance and Testing

 

Simulation and Modelling

 

Operating Systems

 

Technical Report Writing

 
Job Opportunities with BS Software Engineering Degree
A BS Software Engineering degree from Jinnah University will allow you to pursue the following careers: 
Video Game Designer

 

CRM Project Manager

 

3D Graphics Developer

 

Full-Stack Engineer

 

Front-End Engineer

 

Quality Assurance Engineer

 

Backend Engineer

 

Android Engineer/Developer

 

Application Security Engineer

 

Data Scientist

 

Software Architect

 

Software Engineer

 

Applications Developer

 

Cyber Security Analyst

 

Information Systems Manager

 

IT consultant

 

Multimedia Programmer

 

Web Developer

 

Web Designer

 
And many more. 
Which University is The Best for BS Software Engineering?
If you want to get a degree in this field, then Muhammad Ali Jinnah University is the best option. Why? It offers extensive courses in BS software engineering and MS software engineering.  
Similarly, you will learn software engineering and application development under the guidance of extremely competent professors. The emphasis will also be on giving you in-depth knowledge of design, programming, algorithms, and software testing methodologies.  
You will not only gain theoretical concepts, but you will also be able to hone your practical skills by working in high-tech computer laboratories. Thus, you will be well-prepared before entering professional life.  
For more information, you can always contact us at info@jinnha.edu.