Why Should You Pursue a Career in Management Science?
Posted by

Date

January 31, 2023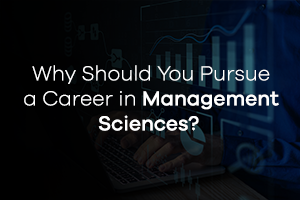 Management science is the study of organizational problem-solving and decision-making. Consider it to be the scientific method applied to management, allowing managers to make decisions for an organization and enhance its performance.  
For example, healthcare facilities can utilize management science to identify the data systems they need, whereas airlines can use management science to schedule airplanes and crew. 
Why is Management Science Important?
There are so many reasons why this sector is an important discipline. The world needs more management science majors because this field assists businesses in: 
Identifying issues that need to be resolved

 

Streamlining management activities

 

Making better use of resources

 

Developing roadmaps for accomplishing goals

 
Top Reasons to Study Management Science 
A business management degree is a popular pick among potential entrepreneurs and corporate executives. It gives you the academic know-how and abilities you need to pursue global employment prospects. It also assists in the acquisition of a strong understanding of businesses and specialized fields like finance and human resources. 
However, if you are still not convinced that a business management degree is right for you, here are five compelling reasons. 
1. Excel in Your Current Career
Career growth is one of the main factors that influence student decisions to study management science. Some people work in an organization they enjoy, but there is no way for them to advance with their present degree and experience.  
Similarly, some people want to switch to a more rewarding and challenging position because they feel stuck in their current one. So, if you feel the same, don't worry. You will be able to advance and land the managerial position of your dreams with the help of a business degree that includes management-focused courses. 
2. Qualify for In-Demand High Paying Professions
Today's economic world is very competitive, and the employment market is no exception. To work in management, you must have a specialized degree that has equipped you to successfully lead a business.  
However, pursuing a management science degree at the undergraduate or graduate level will prepare you for a variety of well-paying job opportunities across several industries. With a degree in management, you could pursue a variety of leadership roles, such as: 
Marketing coordinator

 

General manager

 

Brand manager

 

Marketing manager

 

Financial analyst

 

Human resources manager

 

Business process specialist

 

Project manager

 
3. Start Your Own Business
After you graduate, not only will you have excellent professional prospects, but you will also have the essentials to start your own business; all you will need is an idea to get you going. A business management degree sets you on the path to becoming your own boss by: 
Helping you develop your entrepreneurial skills.

 

Giving you the ability to test-launch any business ideas you may have. 

 
4. Acquire Transferrable Skills
Modern organizations seek managers who have participated in all parts of the business, from commercial operations to efficient communication procedures, from organizational ethics to strategy and analytics. MAJU's business programs take all of this into account while preparing students for long-term professions.  
We provide students with specific training to manage innovation, support change, and enhance both their talent and interpersonal skills. Students acquire useful and adaptable abilities that apply to any career, such as: 
Communication

 

Employee Development

 

Business Ethics

 

Facilitating Change

 

Leadership

 

Mentoring

 

Decision-Making

 

Supervision

 

Teamwork

 
5. It is a Long-Term Investment
Let's say your goal is to become a very successful, skilled, and sought-after manager. In such a situation, investing in a management degree and learning, developing, and mastering managerial skill sets is a long-term investment. It is the basis for a prosperous career.  
Additionally, it creates a pathway and offers stepping stones for job advancement. It results in professional and personal achievement as well as the satisfaction of knowing you have worked hard to prove your value as a contributing member of society. 
Management Science Courses at MAJU
The department of management sciences at Muhammad Ali Jinnah University offers both undergraduate and postgraduate courses in this field. If you are done with your bachelor's, then you can choose our master's or doctoral program and excel in this field.  
Undergrad Course
We offer BS Accounting and Finance degree. It is a comprehensive course that aims to advance your professional career in accounting and finance. The curriculum has been intended to encourage independent learning while also developing your employment skills. 
Post Graduate Courses 
We offer two postgraduate courses including: 
The two-year degree is based on some of Pakistan's greatest management studies. Additionally, it aids in the development of core business knowledge, practical skills, and a both national and international outlook on the management sector.  
The curriculum offers the most aspiring minds in the nation exceptional research training and resources. It also continuously pushes you through quality education that improves your current skill set and advances your research career. Additionally, it will assist you in developing into a data-driven policymaker in both the private and governmental sectors. 
Get Your Management Science Degree at MAJU
MAJU offers the best courses in this field taught by highly qualified faculty. You will have practical exposure along with theoretical knowledge. For more information, you can contact us at info@jinnah.edu.