Here is A Complete Guide About BS English Admission at MAJU
Posted by

Date

June 26, 2023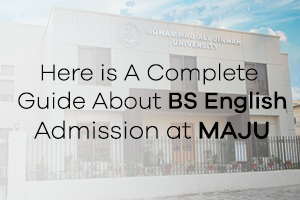 Muhammad Ali Jinnah University offers a variety of undergrad and postgraduate courses, including an English language program. Furthermore, our BS English admission is now open for fall 2023. So, if you want to study literature, apply to MAJU right now.  
Have you ever wondered what BS English is all about? Are you curious about the exciting possibilities it offers? Read this article to understand BS English and its scope in applied linguistics.  
Furthermore, I will also explain the wide range of careers that await those who pursue a BS English degree. So, get ready to dive into the fascinating world of language and communication! 
What is BS English Literature?
BS English is an academic program that focuses on the study of the English language, literature, and linguistics. Moreover, it provides a comprehensive understanding of the English language and equips students with practical skills for effective communication.  
Also, with a special emphasis on applied linguistics, you will learn to apply linguistic principles to real-life situations. 
The Scope of BS English and Applied Linguistics
1. Language and Linguistics
By applying for BS English admission at MAJU, you will: 
Delve into the structure of the English language, including grammar, vocabulary, and syntax.

 

Explore the sounds of English (phonetics) and how they impact communication.

 

Understand how language varies across different social and cultural contexts (sociolinguistics).

 

Learn about the history and development of the English language.

 
2. Literature and Literary Analysis
Another reason to study for a BS English degree is that you can work with literature and literary analysis. And by doing so, you will: 
Immerse yourself in the enchanting world of literature from various periods and genres.

 

Analyze and interpret literary works, understanding their themes, symbols, and literary devices.

 

Enhance critical thinking and analytical skills through the study of literature.

 
3. Applied Linguistics
BS English will allow you to: 
Discover how linguistic theories can be applied to practical situations.

 

Explore language acquisition and teaching methodologies.

 

Gain insights into translation and interpretation, enabling effective communication across languages.

 

Develop language assessment and testing skills.

 
Careers with a BS English Degree
Apply for BS English admission and get your English degree from MAJU. Why? That is because, with a BS English degree, you will find a multitude of exciting career opportunities that value strong communication skills and language proficiency.  
As a result, some of the potential career paths include: 

1. Teaching and Education
With an English degree, you can work in the teaching and education sector in the following roles: 
English language teacher

 

ESL/EFL instructor

 

Curriculum developer

 
2. Publishing and Media
Publishing and media offer the following jobs:  
Editor

 

Copywriter

 

Content writer

 

Journalist

 
3. Communications and Public Relations
You can work in public relations as: 
Communication specialist

 

Public relations officer

 

Social media manager

 
4. Translation and Interpretation
You can also work as: 
Translator

 

Interpreter

 

Localization specialist

 
5. Corporate Sector
The corporate sector also provides the following job positions: 
Content strategist

 

Corporate trainer

 

Human resources specialist

 
6. Research and Academia
If you want to work in the research, the following are the jobs for you: 
Research assistant

 

Academic advisor

 

Linguistics researcher

 
So, apply to our BS English admission, and start your professional journey after getting your degree from MAJU. However, you must be thinking why choose MAJU for this degree? 
Why Choose MAJU for BS English Degree?
Apart from the fact our BS English admission is now open, what is the reason for choosing MAJU for this degree? Well, there are various reasons.  

1. High-Quality Education
MAJU boasts a faculty of experienced professors who are committed to delivering excellent education. In addition, their expertise ensures that students receive a comprehensive understanding of English literature and language. 
2. Industry-Driven Curriculum
 The BS English program at MAJU covers a wide range of subjects. The comprehensive curriculum equips students with a well-rounded understanding of English studies. 
3. Practical Approach 
MAJU emphasizes practical application through interactive learning, workshops, and real-world case studies. Therefore, this hands-on approach helps students develop the skills necessary to excel in the professional world. 
a.
State-of-the-Art Library
MAJU's library is a treasure trove of knowledge, offering an extensive collection of books, journals, and digital resources.  
b.
Modern Classrooms
The institute offers spacious, technology-enabled classrooms that facilitate effective teaching and learning.  
c
. 
Well-Equipped Laboratories
MAJU ensures that students have access to fully equipped computer labs, language labs, and multimedia facilities.  
5. Research 
MAJU encourages students to engage in research activities and offers various research grants and scholarships. This enables students to explore their areas of interest and contribute to the academic community.  
6. Extracurricular Activities
 a. Sports Facilities
MAJU recognizes the importance of a well-rounded education and provides sports facilities for students to engage in physical activities. These facilities promote fitness, teamwork, and a balanced lifestyle. 
b
. Student Societies and Clubs
MAJU offers a variety of student-led clubs focused on arts, drama, photography, debating, and more. Furthermore, these clubs provide platforms for students to pursue their interests, develop leadership skills, and build lasting friendships. 
Apply to our BS English admission in our fall admissions 2023 and enroll yourself on our BS English and applied linguistics course.