The Bachelor of Education at Muhammad Ali Jinnah University
Posted by

Date

July 3, 2023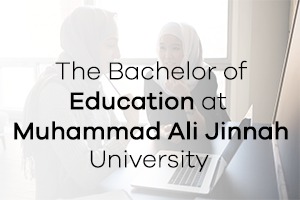 Welcome to the fascinating world of education! Have you ever thought about becoming a teacher and making a difference in the lives of students? A Bachelor of Education (B.Ed.) can be your gateway to an exciting and meaningful career in the field of education.  
What is a Bachelor of Education? 
A Bachelor of Education (B.Ed.) is an undergraduate degree program specifically designed to prepare individuals for a career in teaching and education. It equips aspiring educators with the necessary knowledge, skills, and teaching techniques to effectively educate students of different age groups, from primary to secondary levels. 
Bachelor of Education at Muhammad Ali Jinnah University
Mohammad Ali Jinnah University is a famous research-oriented academic institution that equips its students to make a difference in the world. The university, located in the very center of Karachi, promotes intellectual hunger in its students for life.  
Furthermore, students become successful global citizens as a result of world-class teachers, well-equipped labs, and a strong emphasis on research. So, MAJU offers a variety of bachelor's courses, including a BS in education.  
Bachelor of Education at MAJU in 2023
MAJU offers three programs for bachelor's degree in education. Here are the details of the programs: 
1. B.Ed (Hons.) in Education (4 Years)
The B.Ed (Hons) Education program is a four-year degree program that consists of eight semesters. There will be two semesters every year: the fall and the spring.  
2. B.Ed (Bachelor of Education) (2.5 Years)
The B.Ed program is a two-and-a-half-year degree program that consists of five semesters.  
3. B.Ed (1.5 Years)
B.Ed (1.5 Years) is made up of three semesters, or 18 months. However, from the moment of admission, the maximum period for completing the degree is three years. 
The Career Prospects of B.Ed from MAJU
A BS in education degree opens up a world of possibilities, extending far beyond the traditional classroom setting. Let's explore the various areas where B.Ed. graduates can excel: 

1. Teaching in Schools
a. Primary and Secondary Schools
You can become qualified teachers in public or private schools. You will be offering knowledge and guiding students in a variety of subjects.
b. Special education
With additional training, you can work with students who have special needs. So, you will be providing personalized support and inclusive education. 
2. Education Administration
a. School Administration
You can pursue administrative roles such as principals, vice-principals, or department heads. In addition, you will be overseeing the management and operations of educational institutions.
b. Curriculum Development
You can contribute to the development of curriculum frameworks, educational policies, and teaching materials, ensuring quality education. 
3. Educational Consultancy and Research
a. Educational Consultants
You will offer guidance and expertise to educational institutions, advising on curriculum enhancement, teaching methodologies, and educational reforms.
b. Education Researchers
You will engage in research studies: 
Exploring innovative teaching methods

 

Analyzing educational data

 

Contributing to the advancement of educational practices

 
4. Training and Development
a. Corporate Trainers
You will be able to work in corporate environments. You will be responsible for: 
Delivering training sessions and workshops to employees

 

Helping the employees enhance their professional skills.
b. Non-profit organizations
With B.Ed, you can make a positive impact on communities by designing and implementing educational programs for underprivileged children and adults. 
5. Online Education
a. E-Learning Platforms
B.Ed. graduates can influence their expertise to create engaging and interactive online courses, reaching students across the globe.
b. Online Tutoring
You will provide online tutoring services, offering personalized support to students who require extra assistance in their studies. 
6. Educational Publishing and Content Creation
a. Textbook Authors
So, you can work as a textbook author. Thus, you can write educational textbooks, developing comprehensive and accessible content for students.
b. Content Creators
You will be able to create educational videos, online tutorials, and interactive learning materials, catering to the diverse learning needs of students. 
Benefits of Studying Bachelor of Education at MAJU
Apart from benefitting from high-quality education at MAJU, you will have several other benefits. Let's find out.
You will be studying with experienced faculty members. 

 

B.Ed courses have the subjects that will equip you with the required skills and expertise. 

 

You will have access to internships, projects, and research opportunities. 

 

You will be able to have a well-rounded campus life. 

 

There is a cafeteria where you will have delicious and hygienic food. Also, you will have a place to hang out with your classmates and friends. 

 

There is an auditorium for seminars, workshops, and extracurricular activities.

 

You will have access to modern laboratories and perform experiments. 

 

You can take help from the educational resources at the MJAU library anytime you want. 

 

There are many 

societies and clubs

 that you can partake. You will have a chance to explore your hidden skills and talents. 

 

You can also apply for the required 

scholarship or financial aid

 at MAJU. 

 
So, apply online by clicking on this link to our fall admissions 2023 right now.