Get Your Best BS Accounting and Finance Degree at MAJU
Posted by

Date

July 10, 2023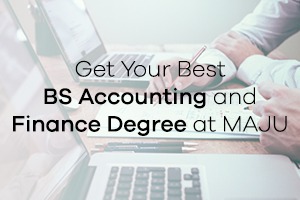 Welcome to the fascinating world of BS Accounting and Finance! In this article, I will walk you through what the exciting realms of accounting and finance is all about. You will know what a BS degree in accounting and finance includes and the exciting career pathways that await those who choose this field.  
So, let's dive in and unravel the wonders of numbers! 
What is Accounting and Finance?
Accounting and finance are essential components of running a successful business. Accounting involves keeping track of financial transactions, analyzing data, and ensuring accuracy. Whereas, the field of finance deals with managing money, making smart financial decisions, and maximizing profitability. 
What is BS Accounting and Finance?
BS Accounting and Finance is a degree program that provides students with a comprehensive understanding of both accounting and finance principles. Furthermore, it equips you with the necessary skills to succeed in the professional world. It offers a solid foundation in financial reporting, analysis, and management. 
The Scope of BS Accounting and Finance
If you are wondering about the scope of this degree in Pakistan and abroad. Then do not worry at all. The scope of BS Accounting and Finance is vast, offering exciting opportunities in various industries. So, let's explore some key areas where professionals in this field can make a significant impact: 

1. Financial Reporting and Analysis
In this role, you will examine financial statements to evaluate a company's performance. You will identify trends and patterns, providing valuable insights to assist in decision-making processes. 
2. Auditing and Compliance
As a professional in auditing and compliance, you will ensure that financial records meet legal and regulatory requirements. Furthermore, you will conduct internal audits to detect any irregularities and establish measures to prevent fraud. 
3. Financial Planning and Management
You can work in financial planning and management. So, financial planners and managers help individuals and organizations make sound financial decisions. So, you will analyze budgets, forecast future financial needs, and strategize ways to maximize resources. 
In addition, with BS accounting and finance degree, you can progress to higher positions such as financial controller or chief financial officer (CFO). 
4. Tax Planning and Management
Tax experts advise individuals and businesses on tax planning strategies. Therefore, you will: 
Ensure compliance with tax laws

 

Minimize tax liabilities

 

Identify opportunities for tax savings

 
5. Public Accounting
In this field, you will work with clients, providing auditing, tax, and consulting services. Furthermore, you can pursue certifications like Certified Public Accountant (CPA) to enhance your career prospects. 
6. Government Accounting
As a professional in government accounting, you will ensure transparency and compliance with financial regulations. Moreover, you will manage public funds and monitor government expenditures at various levels. 
7. Corporate Accounting
In corporate accounting, you will be able to maintain financial records, prepare financial statements, and ensure internal controls. Also, you can advance to positions such as accounting manager or finance director within companies. 
However, first, you need a BS accounting and finance degree to work in these roles. So, where should you get the required bachelor's degree?  
Jinnah University for BS Accounting and Finance
Muhammad Ali Jinnah University or MAJU is the best place for the BS accounting and finance degree in Karachi, Pakistan. So, if you are looking for an amazing institute to get a quality education along with well-rounded campus life the MAJU is the best place to be.  
Why? Let's look at the reasons for choosing MAJU in detail.  

1. State-of-the-Art Campus
You will be studying at a campus where you will have access to all the educational resources. You will have air-conditioned classrooms along with an auditorium and lecture halls. Furthermore, you will have a cafeteria where you will have access to hygienic food. Furthermore, there are modern laboratories and a well-stocked library for students. 
2. Expert Faculty
At Jinnah University's Department of Management Sciences, we incorporate a global perspective with business principles to equip you for a successful career. That is why, our skilled faculty members make sure that you learn how to develop new solutions to crucial societal and financial issues. 
3. Extensive BS Accounting and Finance Curriculum
We want nothing more than success for you. That is why the faculty has created the curriculum to ensure that you learn all of the necessary skills to match the demands of the marketplace. The following are the BS accounting and finance subjects that you will study: 
Principles of Marketing

 

Principle of Management

 

Business Information System

 

Business Research & Report Writing

 

Financial Statement Analysis

 

Financial Markets and Institutions

 

Actuarial Accounting

 

Issues in Financial Reporting

 

Risk Management

 
So, you will learn the desired knowledge for you to excel in your field.  
4. Scholarships and Financial Aid
You can apply for the required scholarship while being a student at MAJU. There are various scholarships that you can look up by visiting this link.  
5. Well-Balanced Campus Life
There are so many opportunities for you to work on your hidden talents and personal growth. We aim to provide you with a well-balanced campus life. Here are some of the societies and clubs that you can join: 
Jinnah-ACM

 

Personality & Character Development Society

 

Jinnah Performing Arts Society

 

Jinnah School of Business Administration Society

 

Jinnah Sports Society

 
So, apply online to our BS accounting and finance admission 2023 right now and enroll yourself at MAJU.