BS Software Engineering: Scope, Career Pathways, and Subjects
Posted by

Date

July 17, 2023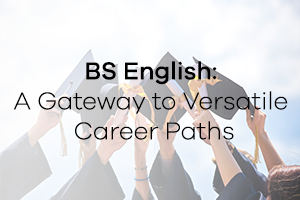 In today's digital age, the world runs on software. From the apps on our smartphones to the complex systems powering businesses, BS software engineering plays a vital role in shaping the modern world.  
So, in this article, you will explore the fascinating field of software engineering with me. I will also focus on the BS Software Engineering course and its scope in Pakistan. So, let's delve into the world of BS in software engineering and discover the exciting career pathways it offers. 
What is Software Engineering? 
Software engineering is a disciplined approach to designing, developing, and maintaining software systems. Furthermore, it involves the application of engineering principles and practices to create high-quality, reliable, and scalable software solutions.  
As a result, software engineers utilize their technical expertise to: 
Analyze user requirements

 

Design software architectures

 

Write code

 

Perform testing

 

Ensure the software matches the desired requirements

 
The BS Software Engineering Course 
The BS Software Engineering course is a comprehensive undergraduate program that equips students with the necessary knowledge and skills to excel in the software engineering domain. This four-year program covers a wide range of subjects, including programming languages, algorithms, database management, software design, software testing, and project management. 
The Scope of SB Software Engineering in Pakistan 
In Pakistan, the demand for software engineers is rapidly increasing due to the country's flourishing IT industry and its emergence as a global outsourcing hub. BS software engineering graduates have excellent career prospects in various sectors, including: 
Software development companies

 

IT consultancies

 

E-commerce firms

 

Multinational corporations

 
Career Pathways in BS Software Engineering
With a BS in software engineering, you can pursue a wide range of career opportunities. The world of IT is vast and there is an ocean of professions that you can choose. Here are some of them.  
1. Software Developer
While working as software developer, your job duties will include: 
Designing

 

Coding

 

Testing

 

Maintaining software applications

 
So, you will collaborate with stakeholders to understand requirements and create efficient, user-friendly software solutions. 
2. Web Developer 
You can also work as a web developer with a bachelor's in software engineering. You will specialize in building websites and web applications. Furthermore, you will use programming languages like HTML, CSS, and JavaScript to create interactive and visually appealing web interfaces. 
3. Mobile App Developer 
The BS software engineering degree allows you to work as a mobile app developer. You will design and develop applications for smartphones and tablets. In addition, you will work on platforms like Android and iOS, using programming languages such as Java, Swift, or Kotlin. 
4. Software Tester 
As a software tester, you will ensure the quality and functionality of software systems. Furthermore, you will conduct various tests, identify bugs and issues, and provide feedback to improve the overall quality of the software. 
Best University for BS Software Engineering in Pakistan
Muhammad Ali Jinnah University is the best place for a BS in software engineering degree. There are so many reasons for you to choose MAJU for this degree. Let's take a look at them.  

1. Comprehensive Curriculum
Muhammad Ali Jinnah University is one of the best software engineering universities in Karachi. So, if you choose MAJU for your software engineering degree. You will learn both theoretical foundations and practical applications. Moreover, you will gain hands-on experience through various projects, internships, and industry collaborations. 
In addition, our software engineering curriculum focuses on developing strong programming skills, problem-solving abilities, and a deep understanding of software development methodologies. You will study the following course subjects: 
Computer Programming

 

Calculus & Analytical Geometry

 

Data Structure & Algorithms

 

Probability and Statistics

 

Software Requirement Engineering

 

Business Process Engineering

 

Software Project Management

 

Operating Systems

 

Software Quality Engineering

 

Web Engineering

 

Information and Network Security

 
2. Experienced Faculty
You will obtain training and guidance to help you excel in your speciality and fulfill the requirements of business and academia. Furthermore, our expert faculty members continue to research new technologies and effectively teach them to you so that you can design reliable systems that contribute to society. 
3. Modern Laboratories
The CS department of Jinnah University puts a strong focus on helping the students' progress in their management, scientific, and engineering skills. So, as a result, the students can build reliable computing systems. That's why we have contemporary laboratories. We make sure you get real-world experience during your studies to boost your employability and job success. 
4. Financial Aid and Scholarship
You can avail yourself of the financial aid and scholarship facilities. We offer multiple incentives to our hard-working students. We also offer fee concessions to those students who are in need.  
5. Societies and Clubs
MAJU has different societies and clubs that you can be a part of. These societies are a great way to explore your hidden talents. You can improve your skills and talents and contribute to society in a better way.  
So, apply online right now to our fall admissions 2023  or by visiting the campus.