Learn About BS English Scope in Pakistan 2023
Posted by

Date

August 2, 2023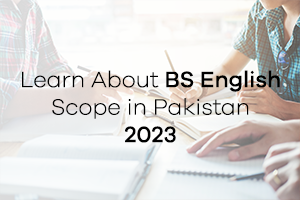 Do you want to study for the most versatile degree in Linguistics? Then the Bachelor in English degree, also known as BS English, is the best for you. Additionally, you can get a bright future with this degree because of the increase in BS English Scope in Pakistan. So, keep reading because here I will tell you all the details regarding its scope in 2023 and the best university to study BS English in Karachi. 
The demand for learning English has increased due to the different sets of opportunities available. Moreover, you will develop a lot of language skills like good spoken and written English, communication, interpersonal skills, editorial skills and much more for your bright future. 
What is BS English?
The BS in English Literature is an undergraduate degree of four years which consists of a total of eight semesters. During this degree, you will be able to explore the English language both critically and creatively. Additionally, this bachelor's programme will enable you to get a hold of knowledge of linguistics and literary studies of the English language. 
The BS English scope in Pakistan is getting higher with each passing day. Therefore, the demand for this degree is also increasing. This course programme will especially help those who are imaginative, creative and interested in literature. Thus, Jinnah University set high standards for the degree of BS English. 
BS English Scope in Pakistan
The Higher Education Commission (HEC) launched a project exclusively for the development of BS English scope in Pakistan; English Language Teaching Reforms (ELTR). It was established to help the BS English graduates get professional training, so, you can also take advantage of it. 
Moreover, HEC's project has opened doors for funding many research projects in the English language and literature. So, if you want to be a researcher, this project can also benefit you in gaining your full potential. In addition to that, HEC has also developed a standardised curriculum of BS English for better prospects. 
Career Prospects of BS English in Pakistan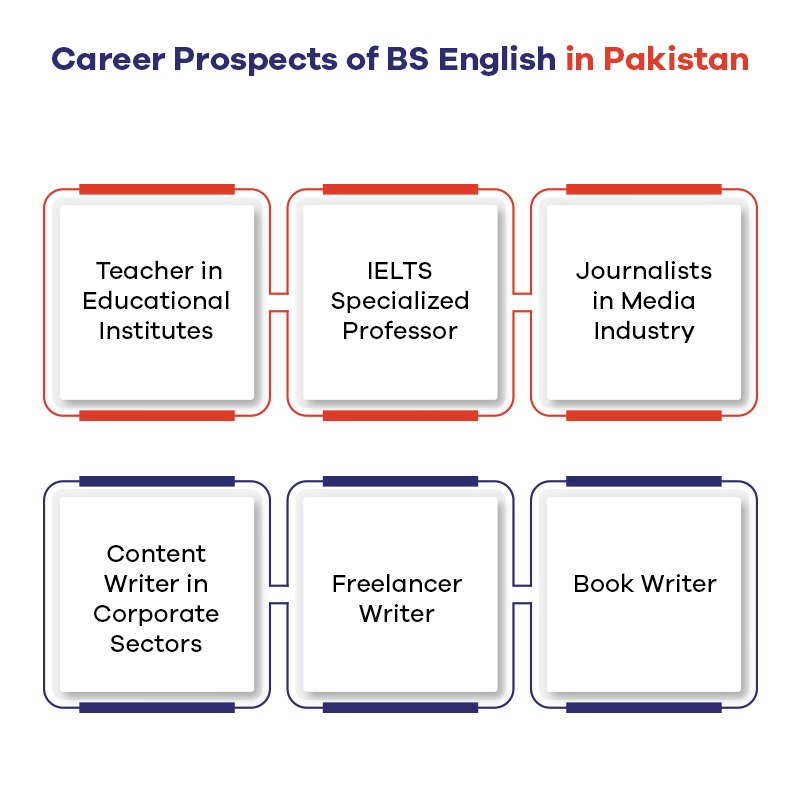 With a BS English degree, you can be a part of various organisations and work in different roles which include: 
A Teacher in Educational Institutes
As a BS English graduate, you can teach English subjects at a school, college, university or private academy. With sound knowledge and ample experience, you can earn a good salary in the teaching profession.  
IELTS Expert
After getting teaching experience, you can become an instructor at an IELTS course centre. There are many IELTS aspirants in Pakistan in 2023, so, you will have many job opportunities in this domain as well. 
Journalists in Media Industry
There are many career opportunities for a BS English graduate that makes the BS English scope in Pakistan higher. As a journalist, you can use your English proficiency skills to deliver information in both oral and written form. In addition to that, a journalist can work both in the private and government sectors. 
Content Writer in Corporate Sectors
In recent times, there is an increase in the job prospects of a content writer and the basic demand is robust English language skills. You will write blogs, articles, ads, social media posts and much more. Thus, you can avail yourself of this opportunity to enrol in a BS English degree for a better career in future. 
Freelancer Writer
Since COVID and the lockdown, there have been many opportunities for remote work. So, as a freelance writer, you can earn in foreign currency and with the ever-rising value of the dollar, you can get handsome earning potential. 
Editor in Publishing Companies
You will gain editorial skills during this undergraduate degree. Therefore, you can work as an editor or a writer in a publishing company. Many well-renowned publishing companies are working in Pakistan which can bring you great career opportunities. 
Book Writer
If you have a passion for storytelling. You can follow this dream through your creativity and writing skills developed with BS in English literature. You can also write a book by working within a publishing company or you can also publish your book independently and earn money through your creativity. 
After reading about the growth potential and BS English scope in Pakistan, you must be looking for the best university for this bachelor's degree. Hence, you do not have to search anywhere else, as the Muhammad Ali Jinnah University (MAJU) has brought a very inclusive and comprehensive degree of BS English for you. 
Study BS English at Jinnah University, Karachi
The Bachelor of Science (BS) in English at MAJU is designed to cater to all your needs. We have developed a comprehensive curriculum with a lot of learning and practice opportunities. Our programme is flexible and meets all the requirements you will need to enter the job market confidently. 
Furthermore, the entire course is designed in accordance with the guidelines of HEC. So, you will master the BS English subjects at our prestigious institute which include some of the following subjects: 
Sociolinguistics

 

Literary Theory

 

Technology in English Teaching and Learning

 

Pedagogic Grammar

 

Journalist Writing

 

Content Writing

 

Research Methods

 
Thus, you will benefit from all the best facilities and teaching methodologies at MAJU. 
Admissions for Fall 2023 are Open at MAJU
With the rising BS English Scope in Pakistan in 2023, you must get a BS English degree to excel in your life. Learn more about our degree programme via our website. 
Start your quality education journey with MAJU now!