Why Should You Study BS Psychology at MAJU in 2023?
Posted by

Date

August 7, 2023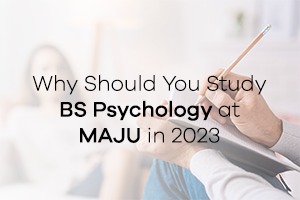 What comes to your mind when you think about the word psychology? The common words that come to our minds on thinking about psychology are brain and emotions. Psychology is mainly the understanding of the brain, its functioning connected to emotions, mental health and especially human behaviours regarding different circumstances. 
If you are interested in all these aspects of psychology and the human brain, then you should choose to study BS Psychology at Muhammad Ali Jinnah University (MAJU). 
BS Psychology at Muhammad Ali Jinnah University
We have designed the degree of BS Psychology with all the specifications needed to understand psychology. The curriculum for this four-year degree is as per guidelines from the regulatory bodies; which will help you to become an outstanding psychologist in future.  
MAJU is one of the best universities for this bachelor's in psychology degree in Karachi. Some of the top features of our institute are mentioned in the text below. 
8 Key Features to Study BS Psychology at MAJU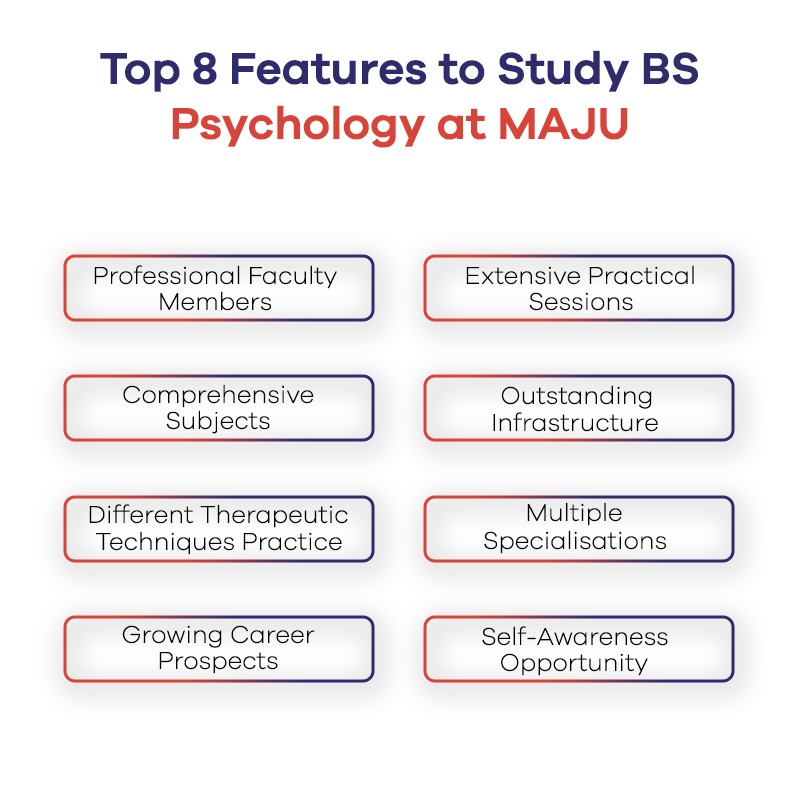 You will learn about the important features MAJU has to offer which are as follows: 
1. Professional Faculty Members
If you want to study Psychology, you must study under the supervision of highly skilful teachers. Our mentors are well-educated and experienced in teaching various branches of psychology.  You will benefit from their knowledge and expertise to polish your own skills within the four years of the degree programme.  
2. Extensive Practical Sessions
It has been a common perception that every student who studied psychology will be able to read minds or know what people around them are thinking. Though, all these questions are just made for fun. However, with practice and the passage of time, you will be able to assess different mental health issues professionally. A psychologist also deals with many brain deformities and their cure. 
Hence, this is the field of science that closely studies the human brain and behaviours. Although, you can never become a skilful professional without in-depth knowledge and abundant hands-on training.  
In BS Psychology, we do not only teach theory, but we also believe in making you an experienced professional. Throughout your journey at MAJU, you will get an ocean of opportunities to practice your subject understandings hand-in-hand.  
Furthermore, you will get to know all the complex therapeutic strategies and models to better perform in your professional settings. Human nature and emotions are pretty hard to understand, so, you will need to practice counselling skills with more empathy.  
But you do not have to worry, as we are here to offer you the best academic services in the field of psychology. 
3. Subjects Offered in Our BS Psychology Programme
You will get the chance to study vital subjects as we have developed a very comprehensive course for you. The subjects are as below: 
Educational Psychology

 

Social Psychology

 

Personality Theories

 

Cognitive Psychology

 

Health Psychology

Psychological research methods

 

Social psychology

 

Abnormal Psychology

 

Psychophysiology

 

Counselling and Therapy

 

Children with special needs

 

Educational Psychology

 

Behavioural Modification

 
In addition to all these compulsory subjects, we also offer you some electives like foreign language and much more. We keep updating our curriculum so you will be trained according to the market needs at MAJU, Karachi. 
4. Outstanding Infrastructure
We have a state-of-the-art campus, and our building is an example of modern architecture. We have air-conditioned classrooms, very well accommodating lecture halls, book-stocked libraries, hygienic cafes and much more for you. MAJU has the best framework to offer you the best campus life you can dream of. 
5. Look-In to Learn Different Therapeutic Techniques
To become a skilful therapist or psychology consultant, you must acquire certain techniques to help your patients in the best way possible. These techniques will help you treat them better and you can make a powerful impact on the overall health of your patients. You will have a great chance to get an advantage in learning different therapy techniques such as: 
Cognitive Behavioural Therapy

 

Cognitive Analytical Therapy

 

Psychodynamic Therapy

 

Dialectical Behavioural Therapy

 

Acceptance and Commitment Therapy

 
6. Specialisations Offered for BS Psychology
If you apply to our undergraduate program of psychology, you can get four options to choose from four specialisations. The specialisation offered within the program is as below: 
Clinical Psychology

 

Educational Psychology

 

Industrial Psychology

 

Organizational Psychology

 
So, you can choose from a variety of professions after specialising in any of these fields of psychology. 
7. Career Prospects of BS Psychology
There has been massive progress in the demand for psychological counselling and emotional therapy for the past few years. In today's fast-moving era, everybody wants to have better mental health. That is why, there is a vast range of career options for you after graduating in Psychology.  
You can choose from these career opportunities as follows: 
Career Counsellors

 

Human Psychologist

 

Children Psychologist

 

Special Needs Psychologist

 

Student Psychologist

 

Military Psychologist

 

Sports Psychologist

 

Researcher in the Field of Psychology

 

Professor Of Psychology

 

Criminal Psychologist

 

Forensic Psychologist

 

Neuropsychologist

 

Cognitive Psychologist

 
And much more. 
8. BS Psychology will Lead to Better Self-awareness
Self-awareness is a blessing in today's time of distress. This field has proved to be very helpful in maintaining mental health. After graduating as a BS Psychology student, you will develop technical skills to manage stress, analyse personal behaviours according to different situations and will be able to maintain healthy relationships. 
Ultimately, it will shape your personality with the best possible approaches.  
Eligibility for BS Psychology Admissions 2023
If you want to get admission to this degree, you must meet the basic eligibility criteria that are: 
You must achieve at least 

45%

 marks in Intermediate Exam or

 

You must have at least 

45%

 marks in A levels or other equivalence degrees as per the 

HEC

 requirement

 
Fall Admissions 2023 are open at MAJU. You can apply online or visit our campus for fall admission 2023 now!