BS FinTech – A Growing Field in Pakistan
Posted by

Date

August 15, 2023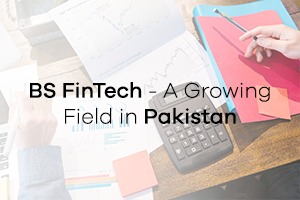 Can today's world work without money? No, right? Every little task needs the exchange of money whether you want to buy a piece of gum, or you want to invest in a business. So, you need to know how the circular flow of money works in this world. 
Therefore, if you are interested in how the financial world works and how different technologies have made it easier for everyone. Then you should get to know about BS FinTech – a bachelor's in financial technology. 
Introduction to FinTech
Fintech is basically a unique combination of finance and technology as financial technology refers to the organisations, firms and businesses that are using the latest technology to deliver financial services in Pakatan and also internationally. There have been many new ventures who have formed apps through utilising updated financial technology techniques such as NayaPay, SadaPay and many much more at national and international levels. 
So, to study this field professionally, you should apply to a bachelor's programme in financial technology. 
What is BS FinTech?
BS FinTech is an undergraduate degree with majors in finance and technology. This degree focuses on the advanced transactional methods of money through the latest advanced technology. Furthermore, it is beneficial in understanding different financial activities. Additionally, this degree will help expand the knowledge of students in areas like: 
Information systems

 

Programming

 

Banking Investments

 

Cryptocurrency and much more

 
Other than this, the financial technology degree has created a demand for well-qualified professionals with expertise in: 
Mathematics

 

Finance

 

Programming

 

Analytics

 

Data Science

 

Applied Statistics

 

Regulatory

 

Compliance 

 

Blockchain

 

Artificial Intelligence (AI)

 

Internet of Things (IoT) 

 

Big Data

 
Thus, the demand for financial technology graduates has increased a lot. 
What is the Scope of BS FinTech in Pakistan?
The field of financial technology is getting more advanced with each passing day. In the past few years, there have been many initiatives like the formation of the Pakistan FinTech Association and the launch of the RAAST programme by the State Bank of Pakistan (SBP).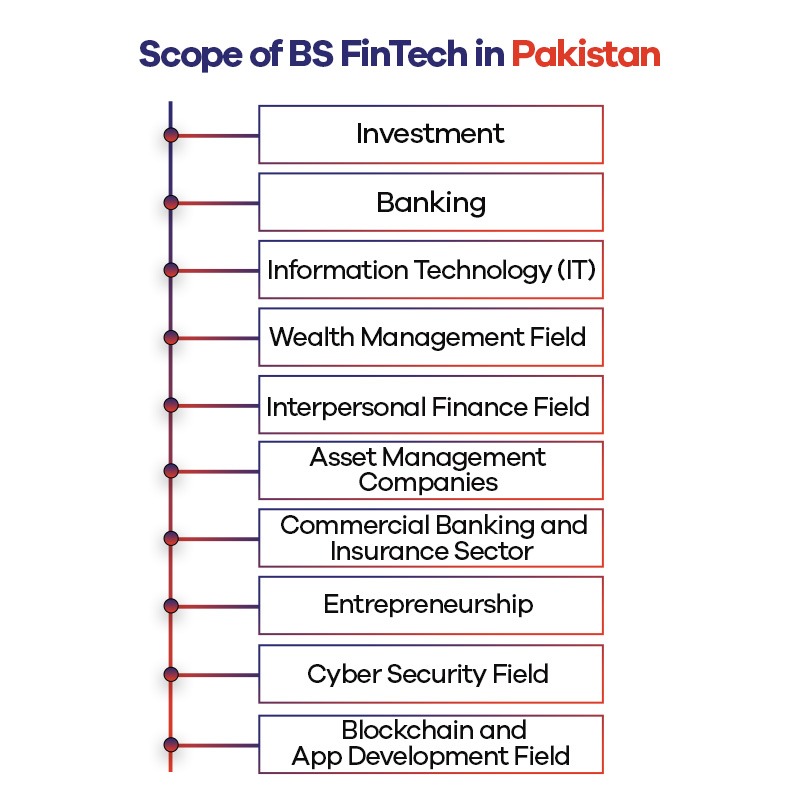 It has pushed the financial sector of Pakistan to actively transform into a better version. As a result, the scope of the degree of BS FinTech is broad with a lot of future potential. The jobs in the financial sector range in nature. So, you can choose from the following sectors to pursue your career:  
Investment

 

Banking

 

Information Technology (IT) 

 

Wealth Management Field

 

Interpersonal Finance Field

 

Asset Management Companies

 

Commercial Banking and Insurance Sector

 

Entrepreneurship

 

Cyber Security Field

 

Blockchain and App Development Field

 
In addition to that, many online websites like Amazon, Facebook, Netflix, and Google are always in search of professionals with experience in finance technology. 
Career Prospects of Financial Technology 
With a bachelor's degree in finance and technology, you can apply to different roles such as: 
Financial Analyst

 

E-Financial Traders and Wealth Tech

 

Stock Technologist

 

Algorithm Training (

HFT

)

 

Investment Banker

 

Blockchain Expert

 

Cloud Computing Architect

 

FinTech Consultants

 

Product Managers

 

Business Developers

 

Financial Intelligence Manager

 

Digital Payment Specialist

 

Financial Data Scientist

 

Reg Tech

 

Cybersecurity Analyst and Manager

 

Entrepreneur 

 
After learning about all the career opportunities and growing scope of this field, you must be thinking about where to get this degree in Pakistan. No need to search anymore as Muhammad Ali Jinnah University (MAJU) has the most exclusive BS FinTech degree for you. And our campus is located in Karachi. 
Why Choose MAJU for BS FinTech?
Since you are looking for the best fintech degree in Karachi, then our university has the highest quality education. In addition to that, we have a resourceful campus with all the advanced technology and educational tools. 
Moreover, we focus on preparing the finest financial professionals. Therefore, our state-of-the-art institute campus is equipped with top-notch technology labs and libraries. You will also study in lecture halls facilitated with multimedia and air-conditioning system. 
Additionally, we will provide you with abundant programming and technology skills to help you in the job market. Therefore, we teach only the most outstanding curriculum to our students in this degree. 
1. Opportunity to Master BS FinTech Subjects
In our undergraduate degree in finance and technology, there are 08 semesters which will be covered in 04 years. This programme will enable you to become a professional with all the top-notch qualities and outstanding skills. During this course, you will gain a lot of knowledge about the advancements in the fields. You will also study a wide range of beneficial subjects in the degree of BS FinTech including: 
Business Economics

 

Computer Programming

 

Cost and Management Accounting

 

Financial Calculus

 

Database Management System

 

Financial Data Analytics

 

Programming for Finance

 

Blockchain Technology for Finance

 

Artificial Intelligence in Financial Decisions

 

Cryptography for Finance

 

Virtual Currency

 

International Financial Management

 

Entrepreneurship

 
These subjects will enable you to become a competent professional in your career. 
2. Expert Guidance for FinTech Research Project
Apart from all the theoretical subjects, we also make our students do a research project in the 7th semester. Our research counsellors will help you in every step of your research. A jury of experts in the field of finance and technology will assess your project. The final year project is essential to pass your degree successfully. 
Other than this, you can participate in many ongoing R&D projects happening at MAJU. So, after reading all the specifics, you must be thinking of how to apply here. 
Get Your Admission to BS FinTech at MAJU Now!
You can register at Lahore UBAS with multiple scholarship opportunities. Moreover, for admissions, you can visit our campus in Karachi, or you can also apply online via the MAJU admission portal. The three easy steps to apply online are mentioned on the webpage. 
Apply to this fantastic field of finance and technology right now!