Study BS Computer Science Subjects in The Best Way at MAJU
Posted by

Date

August 21, 2023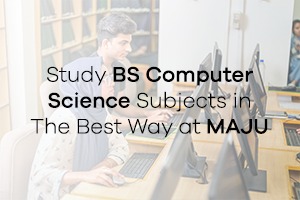 Do you want to study the BS Computer Science subjects in the best way possible? Or do you want to acquire outstanding skills in computer science? If yes, then you should apply at Muhammad Ali Jinnah University (MAJU) as our fall 2023 admissions for undergraduate (BS), postgraduate (MS, PhD) and associate degree programmes (ADP) are open now! 
In Karachi, MAJU offers the best bachelor's in computer science degree. You can join us to get the most exclusive learning experience. 
Introduction to Computer Science
Computer science is the study of computers, computation, information and all its technical aspects. Unlike other degrees, BS Computer Science subjects will help you excel in all the amazing computer functions such as: 
It will make you understand Computer Systems.

 

It will help you with Algorithm formation.

 

You will also study Operating Systems and Computer Networks.

 

Models of Computation are being updated in real-time. With this degree, you will be able to acknowledge all the updates of databases and models of computation.

 

You can learn various latest Programming Languages with it

 
What is BS in Computer Science?
It is a four (04) year undergraduate degree programme that consists of a total of eight (08) semesters. The total credit hours for our BS Computer Science are 132.  
BS Computer Science Subjects
MAJU has designed this degree with the most comprehensive subjects. Some of the BS Computer Science subjects are as mentioned below: 
Computer Programming

 

Data Structure and Algorithm

 

Software Engineering

 

Database Management Systems

 

Operating Systems

 

Web Engineering

 

Cloud Computing

 

Applied Physics

 

Linear Algebra

 

Probability and Statistics

 

Operation Research

 

Calculus and Analytical Geometry

 

Artificial Intelligence

 

Numerical Computing

 
Ultimately, studying all these subjects will enhance your digital skills and expertise in computers. 
Why Study BS Computer Science At MAJU?
At MAJU, you will be trained with abundant practical work with the guidance of our experts. Additionally, our Department of Computer Science will provide you with all the advanced information technology (IT) facilities along with hands-on training to analyse digital problems. Moreover, our university has all the facilities you need to get the best university experience, such as: 
Fully Equipped Computer Labs

 

Well-Qualified Faculty Members

 

Research and Development Projects of computer science for you to participate in.

 

Well-maintained Classrooms and lecture halls

 

Spacious Auditoriums

 

Sports-complex

 

Curricular and Extracurricular Activities

 
And so much more. Thus, you should choose MAJU to study for BS in Computer Science. 
Skills Learnt with BSCS at MAJU
you will be able to grasp the following computer science skills at our university: 
Coding

 

Software Development

 

Website Development

 

App Development

 

Database Computation

 

Computer Graphics

 

Artificial Intelligence (AI)

 

Analysing Data and Network Problems

 

Technology Development

 

Development of Analytical Engines

 
Consequently, these skills will make you an excellent professional in future. However, the question arises how can you be a part of the Muhammad Ali Jinnah University? You can apply at MAJU if you are eligible for admission to our BS Computer Science degree. Then keep on reading as I have mentioned the criteria for admissions below. 
Admission Criteria for BS Computer Science at MAJU
To get admission to our bachelor in computer science, you must meet the following requirements: 
MAJU university percentage required for admission is at least 

50%

 in aggregate in FSC/ ICS/ A-levels with math or equivalent subjects.

 

Additionally, you must pass the MAJU admission test or 

HEC

-approved test.

 
Moreover, the fees of this BSCS programme are designed specifically to be affordable for the masses. You can have a look at our fee structure online via the MAJU website. Additionally, you can also apply for our scholarships. The details for our scholarships are in the text below. 
MAJU Scholarship
Our university offers scholarships for all its students. The criteria for incentives at Jinnah University are as follows: 
Intermediate Marks-based

 

Current CGPA-based

 

Need-based

 

Alumni-based (also includes scholarships based on PGC and Allied school alumni)

 

Kinship-based

 
You can learn more about the scholarship options via the MAJU website. The scholarship forms are also available online. 
Scope After Graduating with Our BS in Computer Science
After COVID, everything has become digital. Therefore, this degree is the best choice for you. And this degree will open many doors for your career path. 
Our goal is to make each of our graduates an asset to Pakistan's future economy. So, you can work in either of the mentioned fields and build your career such as: 
IT industry

 

Software Industry

 

R&D field

 

Government IT Officer

 

Entrepreneur

 
We can say that the scope of this degree is very high. So, it can assure your future in Pakistan as well as all over the globe. Thus, you can choose this degree without any fear and apply to our fall admissions 2023 right away! 
Learn BS Computer Science Subjects with MAJU Now!
You can apply online via the MAJU website, or you can contact us for any query at admission@jinnah.edu