MAJU Undergraduate Admissions 2023: A Complete Guide
Posted by

Date

January 4, 2023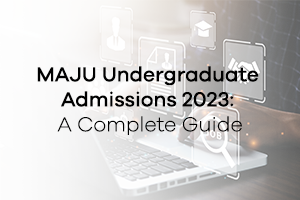 If you are wondering about the spring 2023 undergraduate admissions of Muhammad Ali Jinnah University, we have some good news for you: admissions are now open. In this article, we will tell you everything about the undergraduate programs, admission procedure, and why MAJU is the best choice for your bachelor's.  
What Are the Undergraduate Programs at MAJU?
MAJU offers a variety of BS programs covering different fields. So, whether you want to study life sciences or you want to pursue a career in the area of information technology, you will find every course available at Jinnah University.  
There are five faculties at MAJU, and each faculty offers different programs. Let's look at the courses in detail and help you apply for the spring 2023 undergraduate admissions now.  
1. Faculty of Engineering (FOE)
The faculty of engineering offers courses in the field of engineering. These are as follows: 
So, you can fulfill your dream of becoming an engineer by choosing the BS engineering courses. and the best part is that undergraduate admissions are now open, so you do not have to waste a second and apply right now to the above-mentioned BS programs.  
2. Faculty of Computing (FOC)
Our world is driven by technology. From mobile phones to satellites, everything is based on technology. So, the faculty of computing aims to produce graduates who have a passion for the latest technological trends and help our country face modern world challenges.  
As undergraduate admissions are open these days, so you can apply to the following BS courses now and embark upon the journey of making your dream a reality.  
3. Faculty of Business Administration (FOBA)
Do you aim to work in the corporate world? Is your dream to start your own business or want to work with established businesses? The faculty of business administration offers undergraduate programs that will help you achieve your passion.  
Another department named the Department of marketing and entrepreneurship comes under the umbrella of FOBA. You will learn entrepreneurship skills and marketing abilities that you need to excel in the business field.  
4. Faculty of Basic and Social Sciences 
Do you want to study psychology? Or do you want to be an economist? In any case, your desired faculty is the faculty of basic and social sciences. It offers the following BS programs: 
MAJU's spring undergraduate admissions 2023 are going on these days. This is your chance to apply and learn from the best in town.  
5. Faculty of Life Sciences (FOLS)
If you love life sciences and want to explore how biology is related to technology or other fields, then the faculty of life sciences is at your service. You have multiple course options that you can apply to, such as: 
Jinnah University's undergraduate admissions for spring 2023 is your chance to get yourself enrolled in the best university for life science courses.  
Admission Application Procedure
You can always visit the campus and apply by paying the required fee as spring undergraduate admissions for 2023 are open. However, if you want to apply online, here is a simple procedure.  
Visit Jinnah University's Website

 

Tap on the "

Apply Now

" Icon. 

 

The admission page will open. 

 

Create Your Account. 

 

Log into your account. 

 

Fill out the application form.

 

Submit the form online. 

 

Pay the application processing fee. 

 
After this, you will get the email, or you can get this information from the official website when your admission test is conducted. The next steps are as follows: 
Take the admission test.

 

If you qualify, you have to appear in the personal interview. 

 

The university will display the merit list. And the date of the merit list will be announced on the website. 

 

If your name is on the list, you will get the provisional offer letter or fee voucher. 

 

The next step is to accept the offer and submit the fee. 

 

The last thing you have to do is submit your admission form. Now you are a part of the MAJU community. 

 
Why MAJU for Bachelor Studies?
You must be thinking, " Why is MAJU the right choice for my bachelors??" Here is why: 
Purpose-Built Campus

 

Top-Notch Faculty

 

State-of-the-Art Laboratories

 

Fully Stocked Library

 

Shuttle Service

 

HEC-Based Curriculum

 

Well-Balanced Campus Life

 

Scholarships and Incentives

 
These are some of the top reasons to choose Muhammad Ali Jinnah University for your undergraduate programs. You will not only be gaining theoretical knowledge but will have the chance to hone your practical skills.  
MAJU Spring Undergraduate Admissions 2023 Are Now Open!
Now when you have all the information, all you have to do is apply. Do not delay as MAJU's undergraduate admissions will be closed soon and you will miss your chance to study at the top university.  
For more information, please contact them at info@jinnah.edu.