MAJU: Your First Choice for BS Biotechnology in Karachi
Posted by

Date

June 12, 2023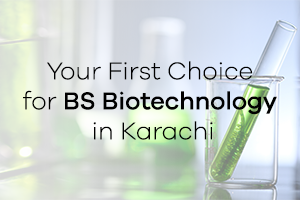 Are you thinking of pursuing a BS biotechnology in Karachi? However, you cannot find the best place to study for this degree. You have come to the perfect place.  
In this article, I will explain what BS biotechnology is, the scope of BS biotechnology in Pakistan, the BS biotechnology subjects, and BS biotechnology in Karachi at MAJU.  
What is BS Biotechnology? 
The Bachelor of Science in Biotechnology is a four-year undergrad program. The program combines a number of scientific areas. Furthermore, the course develops graduates with a high level of cognitive, practical, and transferable skills.  
BS Biotechnology Scope in Pakistan
In addition, BS biotechnology in Karachi will provide you with the knowledge to start careers in: 
Medical research

 

Hospitals

 

Public health laboratories

 

In the pharmaceutical, food

 

Agricultural industries

 
Furthermore, graduates of biotechnology programs are in high demand for jobs in non-science fields including accounting, journalism, and marketing. That is because they have gained strong analytical, numerical, and communication abilities. 
Every year, a large number of vacancies for biotechnologists are announced by both public and private institutions. Some of them involve the following: 
Genetic Engineer

 

Environment Scientist

 

Forensic Officer

 

Food Biotechnologist

 

College Lecturer

 

Diagnostic Labs Manager

 

Researcher

 

Biotech Pharmaceutical Industry

 

PCSIR

 

Vaccine Development

 
So, get your degree now.  
Why MAJU for BS Biotechnology in Karachi
If you want to get your degree in BS biotechnology in Karachi, then Muhammad Ali Jinnah University is the best place to be. The following are the top 9 reasons to choose MAJU for your BS biotechnology in Karachi.  

1. Industry Driven Curriculum
Our biotechnology course is divided into four years and 8 semesters. You will study the latest trends in the biotech world in this degree program. Furthermore, our course offers subjects that are industry-driven so that you are well-prepared to enter professional life.  
BS Biotechnology Subjects
The following are the subjects of BS biotechnology in Karachi at MAJU: 
Cell Biology

 

Biochemistry

 

Protein Chemistry

 

Genetic Engineering

 

Industrial biotechnology

 

Bioethics and Biosafety

 

Functional genomics

 

Statistical Methods in Biology

 

Statistical Methods in Biology

 

Agricultural Biotechnology

 

Experienced Faculty

 
Another reason to choose MAJU for BS biotechnology in Karachi is that you will be studying from our experienced and skilled faculty. They will ensure that you grasp the concepts in detail and are able to put them into practical experiments.  
2. Well-Equipped Campus
The MAJU campus is designed with all educational facilities under consideration. You will be studying in air-conditioned classrooms with all the required visual technologies. Furthermore, there is a cafeteria for you to hang out with your friends. In addition, there is a parking facility and security personnel are there to ensure you are safe on the campus premises  
3. Modern Laboratories
We have modern laboratories of sciences and arts. We aim to provide you with practical experience along with offering you a high-quality education. So, you will conduct experiments in these labs and strengthen your concepts.  
4. National and International Collaborations
Muhammad Ali Jinnah University has multiple collaborations with national and international agencies and institutions. There are exchange programs for students, research programs, seminars and joint conferences available for you to attend. So, you will have these amazing academic opportunities at MAJU.  
5. Research and Publication
MAJU offers you a wide range of research opportunities. In addition, you will have the chance to get your articles and research projects published on various platforms. However, the following is the list of research projects in which you can take part: 
Social Sciences (including Psychology)

 

Electrical Engineering

 

Management Science

 

Computer Systems Engineering

 

Computer Science

 

Electrical Engineering 

 

Biotechnology, Genomics, Bioinformatics, Protein Science, Pharmacology

 
6. Scholarships and Financial Aid
While studying at MAJU, you will have access to various scholarships and financial aid incentives. So, you can apply for the required scholarship and avail yourself of the opportunity.  
7. Societies and Clubs
Other than the top-notch educational facilities that MAJU has, it offers more than that. We aim to provide you with a campus life that is good and provides you with opportunities for self-development. That is why we have multiple societies and clubs that you can join. Here is a list: 
Jinnah-ACM

 

Personality & Character Development Society

 

Jinnah Performing Arts Society

 

Jinnah School of Business Administration Society

 

Jinnah – BioSciences Society

 

Jinnah Sports Society

 

Jinnah Media Society

 

Jinnah ENTERTAINMENT SOCIETY

 
8. Access to HEC Digital Library 
Another reason for choosing MAJU for BS biotechnology in Karachi is that you will have access to the HEC digital library. Researchers will be able to access the majority of significant text and reference books online through the e-books support initiative. In addition, the Digital Library Program has made about 75,000 pieces of electronic content available. 
So, do not waste time and apply to our fall admissions 2023 to get your degree in BS biotechnology in Karachi.