Apply to MAJU's BBA Admission in Karachi
Posted by

Date

June 6, 2023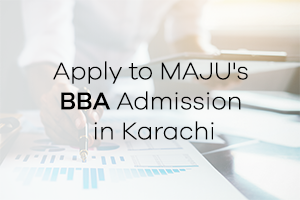 Are you waiting for BBA admission in Karachi to open? Well, I have some good news for you. Muhammad Ali Jinnah University's (MAJU) BBA admission in Karachi is now open. So, you can apply and get yourself enrolled at MAJU.  
But first, let me tell you what a BBA degree is, what BBA scope in Pakistan is, and what you can do with a BBA degree.  
What is BBA?
BBA is a four-year business administration program that students may pursue after finishing their 12th grade in any field of study. BBA is helpful for the future and works around the administration's capabilities. So, if you are done with your intermediate exams, you can apply to BBA admissions in Karachi right now.  
In addition, after a BBA, there are several job options. The BBA curriculum is continuously revised to keep up with developments in the marketplace. So, what can you do with a BBA degree in Pakistan? What is the scope? 
BBA Scope in Pakistan
Many students frequently question whether the degree they are pursuing has any application in Pakistan. Since it has always been in demand and has a wide range of applications, BBAs in Pakistan have a very broad range of applications.  
Thus, having a BBA degree provides access to a wide range of incredible work options. It is a rewarding profession with a bright future. 
10 Amazing Career Prospects for BBA Graduates
Here are 10 potential career opportunities for you if you are willing to take the BBA course.  

1. Bank Branch Manager
Bank branch managers are responsible for managing all aspects of a certain bank branch. The duties include recruiting and supervising every branch staff member. So, you will increase the number of accounts at the branch to guarantee the bank's profitability. 
2. Financial Analyst  
A financial analyst advises businesses on how to proceed depending on a number of factors including: 
Financial performance

 

Market trends

 

Operational outcomes

 
So, your duties as a financial analyst include: 
Compiling data

 

Arranging information

 

Analyzing results

 

Making suggestions

 

Producing Excel models, presentations, and various reports.

 
3. Marketing Executive 
As a marketing executive, you will monitor and put into action various advertising strategies for a business. Furthermore, you will promote goods and services by using campaigns and approaches designed specifically for every item. 
4. Market Research Analyst 
Market Research Analysts monitor trending keywords, survey replies, and social media tags to understand the scope of the digital market. You will do this to reach your target clients. 
5. HR Specialist
A human resources specialist's duties include hiring, assisting, and educating staff members. So, if you want to become an HR Specialist, you must, however, have worked as an HR Officer or HR Analyst. 
6. Logistic Executive
If you work as a logistics executive, your responsibilities include planning, organizing, and managing the organization's or company's logistics supply chain. 
7. Project Management Executive
The management of the workplace falls under the job of the project management executive. So, your responsibilities include direct management of both short and long-term projects. In addition, you will also be in charge of setting strategic program goals. 
8. Data Scientist 
The data scientist's job is to examine different data patterns and assess them. In addition, you will evaluate how the data affect a given organization. So, you must be able effectively to communicate the value of data to others. 
9. Business Intelligence Analyst
A Business Intelligence Analyst's role is to analyze data obtained to improve the efficiency of the organization. In other words, your job is to increase earnings. 
10. Application Developer 
An application developer's main responsibility is to write excellent code that complies with company standards. However, your duty also includes evaluating existing codes. Furthermore, you will update and make all adjustments following the evaluation's essential thesis. 
MAJU for BBA in Karachi
I said earlier that BBA admission in Karachi at MAJU is now open. So, you can apply now at this prestigious institute to get this degree. You must be wondering why should you choose MAJU, right? Here is why.  
The MAJU 

BBA program 

is designed to specifically address the demands of the modern workplace and economy. 

 

Furthermore, the

 curriculum

 is regularly updated to meet the needs of new advances and emerging technologies. 

 
Furthermore, the university also holds 

workshops

, seminars, and training sessions that provide our students with the chance to put what they have learnt into practice. Why? That is because all prestigious businesses constantly look forward to a highly skilled workforce that will increase their value. 

 

You will study under the supervision of highly 

experienced faculty

. 

 

You will have a 

well-balanced

 

campus life. 

 

You will have access to various 

educational facilities

 including laboratories, libraries, and

scholarships

. 

 

You will have a quality education with 

practical knowledge

. 

 
Apply right now to MAJU's BBA admission in Karachi as our fall admissions 2023 are now open. Embark upon the journey of fulfilling your dreams.