BS Software Engineering: Scope and Career Opportunities
Posted by

Date

May 29, 2023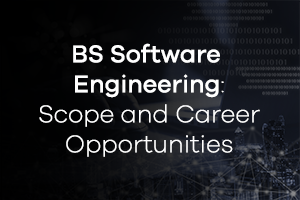 Are you interested in computers and technology? Do you enjoy solving technical problems and creating innovative software solutions? If so, a career in BS software engineering might be the perfect fit for you! 
What is BS Software Engineering?
BS Software Engineering is an undergraduate degree program that focuses on the principles, practices, and techniques used in software development. Furthermore, it involves the study of programming languages, software design, algorithms, data structures, and software testing.  
In addition, this undergraduate program equips students with the skills and knowledge necessary to develop, maintain, and manage software systems. 
BS Software Engineering Scope in Pakistan
The field of software engineering has experienced exponential growth in Pakistan. Why? That is because of the increasing demand for software professionals in both local and international markets. Some key factors that contribute to the scope of BS Software Engineering in Pakistan are: 
1. Growing IT Industry
Pakistan's IT industry has witnessed significant growth in recent years. As a result, it has led to a surge in demand for software engineers. So, numerous multinational companies and software development firms have set up operations in Pakistan. Thus, it has resulted in various job opportunities. 
2. Entrepreneurial Culture
Pakistan has seen a rise in entrepreneurship and startups. So, there is an increase in the demand for software engineers to develop innovative software solutions. Thus, many talented software engineers have successfully launched their startups. They also contribute to the expansion of the software industry. 
3. Government Initiatives
The Pakistani government has taken initiatives to promote the IT sector, including: 
Tax incentives

 

Investment-friendly policies

 

The establishment of its parks

 

Incubation centers

 
Therefore, these initiatives have created a favourable environment for software engineering graduates. 
Career Opportunities with a BS Software Engineering Degree
A BS Software Engineering degree opens up a wide range of career opportunities in various sectors. Here are some job roles for software engineering graduates: 

1. Software Developer
Software developers are responsible for designing, coding, testing, and maintaining software applications. So, you will work on diverse projects, such as: 
Web development

 

Mobile app development

 

Enterprise software solutions

 
2. Full-Stack Developer
Full-stack engineers are skilled in both the front-end and back-end of software development. Therefore, you will handle all aspects of software development, including: 
User interfaces

 

Databases

 

Server-side logic

 
3. Software Quality Assurance Engineer
As a quality assurance engineer, you will ensure that software products meet quality standards by: 
Conducting testing

 

Identifying bugs

 

Implementing necessary fixes

 
4. Software Project Manager
With a BS software engineering degree, you can work in this role. As a project manager, you will oversee the planning, execution, and delivery of software development projects. In addition, you will manage teams, allocate resources, and ensure project success. 
5. Software Consultant
Software consultants provide expert advice to clients on software-related matters, such as: 
System architecture

 

Software selection

 

Process improvement

 
Skills Required for Success in BS Software Engineering Field
To excel in the field of software engineering, certain skills are essential. Some of the key skills required include: 
1. Programming Skills
Proficiency in programming languages like Java, Python, C++, and JavaScript is crucial for software engineering roles. 
2. Problem-Solving Abilities
Software engineers must possess strong problem-solving skills to: 
Analyze complex issues

 

Devise efficient solutions

 

Debug software applications

 
3. Collaboration and Communication
Effective communication and teamwork skills are vital for working in software development teams and interacting with clients. 
4. Continuous Learning
The field of software engineering is constantly evolving. You will need to stay updated with the latest technologies and trends to remain competitive. 
BS Software Engineering in Pakistan
Muhammad Ali Jinnah University, or MAJU, is the best place to get your BS software engineering degree. I would suggest you choose us for your undergrad software engineering course. Why?  
1. Expert Faculty
You will be studying under the supervision of expert and qualified faculty members. Our professors will employ modern teaching methodologies to help you gain both practical and theoretical knowledge.  
2. State-of-the-Art Campus
The campus of the university is designed to meet the educational needs of the students. You will be learning in the air-conditioned classrooms. In addition, there are modern science and art laboratories where you can conduct experiments and gain practical experience.  
In addition, you will have access to the well-stocked library. You can gain knowledge from various textbooks, journals, dictionaries, etc., so join us.  
3. Well-balanced Campus Life
We aim to provide you with a well-balanced campus life. There are multiple societies and clubs that you can join. These clubs will give you chances for self-growth and development.  
4. Scholarships
MAJU offers multiple scholarships to its students. So, if you meet the required scholarship criteria, you can apply for it. Following are the scholarships that you can apply for: 
Merit-Based Scholarship

 

PGC Scholarship

 

Kinship

 

Sports Scholarship

 
Etc. 
So, apply for our fall admissions 2023 right now and secure your seat in our BS software engineering program.