Why is MAJU the Best Institute for a BS Electrical Engineering Degree?
Posted by

Date

May 23, 2023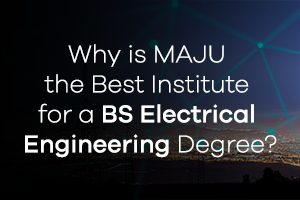 Are you interested in electricity and how it powers the world around us? Do you enjoy solving complex problems and designing new systems? If so, then a career in BS electrical engineering might be perfect for you!  
In this blog, I will explain to you what electrical engineering is, what a BS in Electrical Engineering program is, and the scope of the degree in Pakistan. Additionally, I will discuss the career opportunities available to graduates with a BS in Electrical Engineering. 
What is Electrical Engineering?
Electrical engineering is a discipline of engineering that studies electricity and its applications. It includes creating, testing, and keeping up with electrical systems and parts. 
What is BS Electrical Engineering?
BS Electrical Engineering is an undergraduate degree program that focuses on the fundamentals of electrical engineering. It provides students with a strong foundation in mathematics, physics, and computer science 
Furthermore, it gives students hands-on experience in designing, building, and testing electrical systems. Similarly, the program typically takes four years to complete and includes coursework in circuit analysis, digital systems design, electromagnetics, and control systems. 
Scope of BS Electrical Engineering in Pakistan
In Pakistan, the field of electrical engineering has tremendous scope due to the country's rapidly growing energy and telecommunications sectors. According to the Pakistan Engineering Council, there is a high demand for electrical engineers in the country, and the demand is expected to grow in the coming years.  
The government of Pakistan has also initiated various projects, such as the China-Pakistan Economic Corridor (CPEC). Thus, these projects require skilled electrical engineers to work on infrastructure development and energy generation projects. So, there are various job opportunities for electrical engineering graduates.  
Jobs with a BS Electrical Engineering Degree
Graduates with a BS in electrical engineering have a wide range of career opportunities available to them. Some of the job possibilities are: 
1. Electrical Engineer
Electrical engineers are in charge of designing, developing, and testing electrical systems and components. So, as an electrical engineer, you will work on a variety of projects, including: 
Power generation

 

Distribution and utilization

 

Telecommunications 

 

Electronics

 
2. Control Systems Engineer
As a control systems engineer, you will design and implement systems that control various processes, such as manufacturing or power generation. In addition, you will use your knowledge of electrical systems to develop and test control algorithms and software. 
3. Power Systems Engineer
Power systems engineers work on projects related to the generation, transmission, and distribution of electrical power. So, you will design and maintain electrical infrastructure, including: 
Power plants

 

Substations

 

Distribution networks

 
4. Electronics Engineer
Electronics engineers are responsible for designing and developing electronic systems and components, such as microprocessors, sensors, and communication systems. So, your job will include working in a variety of industries, including telecommunications, aerospace, and defense. 
Why Choose MAJU for BS Electrical Engineering?
Are you looking for the best institute to pursue your BS Electrical Engineering degree? Look no further than Muhammad Ali Jinnah University (MAJU). Here is why you should choose MAJU.  

1. High-Quality Education
MAJU is known for providing high-quality education to its students. The faculty members are qualified and have years of experience in this field. Furthermore, they use modern teaching methods to ensure that students understand the concepts thoroughly. 
2. State-of-the-Art Facilities
MAJU has state-of-the-art facilities, including a modern auditorium, lecture halls, air-conditioned classrooms, computer and science labs, a cafeteria, and a well-stocked library. The campus is equipped with the latest technology to ensure that students have access to the best resources for their studies. 
3. Hands-on Learning
We focus on hands-on learning, which means that students get to work on real-world projects and gain practical experience in their field. This approach will help you apply the theoretical concepts that you will learn in the classroom to solve real-world problems. 
4. Diverse Extra-Curricular Activities
MAJU offers a wide range of extra-curricular activities, including sports, arts, music, and drama. These activities help you to develop your interests and talents. In addition, they provide a well-rounded university experience. 
5. Professional Societies and Clubs
We have various societies and clubs that you can join to enhance your skills and talents. These societies and clubs provide opportunities for students to have a well-balanced campus life.  
6. Campus
Facilities at MAJU
MAJU offers a range of facilities to its students to ensure that they have a comfortable and conducive learning environment. Some of the facilities available on campus include: 
a. Modern Classrooms
MAJU has modern classrooms equipped with audio-visual aids to facilitate effective learning. 
b. Computer and Science Labs
There are well-equipped computer and science labs for students to conduct experiments and gain practical experience.  
c. Library
MAJU has a well-stocked library with a vast collection of books, journals, and other resources that students can use for their studies. 
d. Sports Facilities
The campus also has sports facilities for students to participate in various sports and physical activities. 
BS
Electrical Engineering Subjects
As a BS Electrical Engineering student at MAJU, you will study a range of subjects related to the field of electrical engineering. Some of the BS electrical engineering subjects are: 
Computer Programming

 

Data Structure & Algorithms

 

Database Management Systems

 

Software Quality Engineering

 

Operations Research

 

Information and Network Security

 

Quality, Health, Safety and Environment

 

Software Construction and Development

 
So, apply to our fall admissions 2023 right now and start your electrical engineering journey.