MAJU's Spring Admissions 2023: The Best University in Karachi for BBA
Posted by

Date

December 27, 2022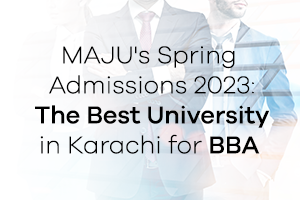 Do you want to study for a bachelor of business administration (BBA)? And are you looking for the best university in Karachi for BBA? Well, you have come to the right place to clear up your confusion. Let's find out why Muhammad Ali Jinnah University is the best place to study BBA, but first, let me define BBA.  
What is a Bachelor of Business Administration?
A bachelor's degree in business administration prepares students for professions in management, finance, accounting, or other business-related fields. 
Many BBA graduates opt to work in management or establish their own businesses. Many others, however, may utilize the degree as a gateway to a job in marketing, accounting, finance, real estate, or even education.  
However, you may discover that MAJU's BBA program includes other aspects along with business administration. Instead, it enables you to focus on a subject like management, accounting, health care, or marketing to make you more qualified to work in those fields. And that is one of the many reasons why MAJU is the best university in Karachi for BBA.  
Top 6 Factors that Make MAJU the Best University in Karachi for BBA
Muhammad Ali Jinnah University is the best choice if you want to study any course for your bachelor's. whether it is BBA or any other science course, MAJU is the place to be. However, let's look at the top six reasons that make MAJU the best university in Karachi for BBA.  
1. Purpose-Built Campus
The university campus has been built to make your academic journey as easy and comfortable as possible. Digital media, tables, chairs, and other amenities are all well-equipped in the classrooms.  
There is also a cafeteria that serves hygienic meals and is a great place to hang out with friends during your break. In addition, we will provide you with 24/7 power backup so that your education does not get interrupted and this surely makes MAJU the best university in Karachi for BBA. Similarly, we have security officers stationed at the campus entrances to assure your safety.  
2. Top-Notch Faculty
To provide you with the basic knowledge and fundamental concepts, we have highly qualified and competent faculty at our campus. The professors who will be teaching you the BBA course have years of experience in the field. They ensure that you learn and grasp everything so that you have the practical and theoretical knowledge that you need to excel in your professional life.  
3. Extensive Curriculum
The Department of Management Science at MAJU offers a course in bachelor's business administration. It seeks to produce graduates who are suited to the market's changing demands. In addition, we want graduates who place a suitable emphasis on serving the business community. 
So, we firmly think that the BBA curriculum, instructional strategies, and learning environment must promote the application of moral principles consistent with societal religious and cultural norms.  
Course Objectives
 The course objectives of the BBA course are as follows: 
The BBA program is specifically designed to meet industry requirements in a changing global business environment.

 

The program provides the necessary tools for students to attain their career goals.

 
We help our students gain a basic and advanced knowledge of the business world through the BBA curriculum.

 
Learning Outcomes
So, by the time you graduate you will have: 
Modern Knowledge

 

Management Skills

 

Business Decisions skills

 

Cross-functional knowledge

 
And this is one of the reasons why MAJU is the best university in Karachi for BBA.  
4. Laboratories and Library
The university campus is equipped with state-of-the-art laboratories and a library. You will have access to the latest equipment, including computers, digital media, etc., so whenever you need help during your research in BBA, you can benefit from these advanced laboratories. Similarly, the campus has a library with every educational resource available. You can go there and study in a quiet and peaceful environment.  
5. Societies and Clubs
We want to make sure that you not only gain knowledge but also develop professional skills that will help you in your practical life. That is why MAJU is the best university in Karachi for BBA.  
So, to provide you with a well-balanced campus life, there are so many societies and clubs that you can join and embark upon the journey of self-development. Following are the societies and clubs that you can be a part of: 
Personality and Character Development Society

 

Mental Health Club

 

Plan It Society

 

Performing Arts Society

 

MAJU Sports Society
6. Scholarships and Incentives
Another factor that makes MAJU the best university in Karachi for BBA is the scholarships and incentives that we provide. We believe in honouring and rewarding our hardworking students. And to do so, we offer a variety of scholarships and fee concessions to make education accessible for everyone.  
Here is a list of scholarships that we provide: 
Merit-Based Scholarships

 

Financial Aid, Contingency, and Disabled Scholarships

 

PGC Scholarships

 

Siblings Scholarships

 

MAJU Alumni Scholarships

 

Faculty Members and Staff Scholarships

 
So, if you are planning on taking admission to MAJU, the spring admissions 2023 are now open.  
Choose MAJU: The Best University in Karachi for BBA
Muhammad Ali Jinnah University is the perfect choice for studying BBA in Karachi. Our spring admissions for 2023 are now open. So, enrol yourself and be a part of our growing community.  
For more information, contact us at info@jinnah.edu.