Why is MAJU the Best University for ADP Programs?
Posted by

Date

December 21, 2022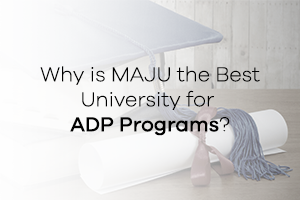 Do you not want to study bachelor's degrees for four years? Don't worry, we have associate degree programs, or ADP programs, for you here at Muhammad Ali Jinnah University.  
What are the ADP Programs in Pakistan? 
An Associate Degree Program is a two-year post-intermediate or equivalent academic degree. Both public and private universities and DAIs award this degree primarily in market-driven disciplines based on local and regional industry needs.  
They determine what courses they should offer through a thorough survey. These surveys are carried out by the university or institution involved. These Associate Degree (ADP) programs are similar to a BA/BSc (Pass) degree in terms of degree level.  
ADP Programs of MAJU
Along with a wide range of BS programs, we also offer ADP programs to our students. Why? We provide our students with these two-year degree courses to enhance their potential earnings and put them on the fast track towards big ideas, big opportunities, and tremendous success. 
MAJU offers software development  associated degree programs that you can enroll yourself in.
Our spring admissions 2023 are open. So if you want to opt for an ADP program at MAJU, now is your chance. Fill out the admission application form and be a part of our community.  
Why Should You Study ADP Programs at MAJU?
Muhammad Ali Jinnah University degrees broaden your horizons without emptying your wallet. Furthermore, with the help of our financial aid, two out of every three students can enroll tuition-free, and three out of every four can graduate debt-free. 
Apart from this, let me tell you why MAJU is the best institute for ADP programs.  
1. Purpose-Built Campus
The university campus has every educational facility available for its students. The classrooms are air-conditioned and digitally equipped. There is a hygienic cafeteria where you can hang out with your friends in your free time. in addition, we ensure that you have an uninterrupted power supply. Also, to make you sure your safety, our security personnel are stationed at the gates all the time.  
2. Top Notch Faculty
When you enroll yourself in the ADP programs at MAJU, you will be studying with our highly qualified teachers and professors. Our instructors utilize modern teaching methodologies so that you not only cram but also understand the basic concepts of the subjects you have chosen to study. So, if you want to benefit from this, then apply to the spring admissions 2023 right now.  
3. Advanced Laboratories
Let's suppose you choose a software development-associated degree program. You cannot learn to create software by reading books only. You need to implement the theories on computers and perform them practically. That is why we have advanced laboratories with the latest equipment to increase your practical exposure.  
4. Fully Stocked Library
To facilitate your academic journey with us, we have a fully stocked library with different textbooks, reference books, encyclopedias, dictionaries, etc., so if you need any help in your exams, quizzes, or assessments, you can benefit from our library and prepare in a peaceful environment.  
5. Extensive Curriculum
The curriculum of all the ADP programs is designed in such a way that you will cover all the required areas of your desired field. Similarly, the curriculum is HEC-based. So, you will be getting the education that will help you excel in Pakistan's professional market.  
6. Shuttle Service
Not everyone has their own personal transportation. So, to facilitate our students and faculty members, MAJU offers an extraordinary shuttle service. Additionally, there are numerous routes in Karachi; pick the bus route that best meets your needs. For additional information on this subject, click this link. 
7. Campus Life
You cannot perform well if you do not give your mind a break. You will get exhausted and not be able to produce good results. That is why, to ensure you have a well-balanced campus life, MAJU offers a variety of events in which you can take part.  
There is a wide range of societies and clubs that you can join and explore your hidden talents. This will lead you to personal growth and enhance your interpersonal skills. So, we have different societies and clubs. These include: 
MAJU engineering society

 

Business administration society

 

Personality and Character Development Society

 

Mental Health Club

 

Plan It Society

 

Performing Arts Society

 

MAJU Sports Society

 
Enroll in MAJU's ADP Programs Right Now!
I have described everything in detail about the ADP programs and why MAJU is the best choice to study these courses. Now, all you have to do is apply, as our spring admissions 2023 are going on. So, do not waste time and hurry up. Be a part of our community and have the most memorable time of your life here at MAJU.  
For more information, you can visit our official website or you can always contact us at info@jinnah.edu.