Top 6 Reasons to Study BS Psychology at Muhammad Ali Jinnah University
Posted by

Date

December 15, 2022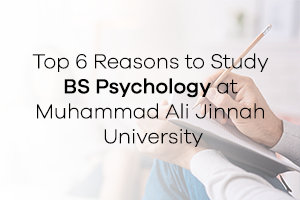 Are you wondering whether you should study BS psychology and that too at Jinnah University? In this article, we will tell you why you should go for your bachelor's in psychology, its scope in Pakistan, and why you should choose MAJU for this degree.
But first, you should know what psychology is. So let's dig into that.
What is Psychology?
Based on specific issues faced by society, psychology as an applied science offers personalized answers. So, the course of BS Psychology aims to explain behaviour patterns in a particular setting using a variety of theories, methodologies, and procedures so that it can make useful recommendations to people who are having trouble or are having trouble achieving their goals.
Scope of BS Psychology in Pakistan 
One of the most often asked questions by students interested in pursuing a BS psychology is this one. Well, Pakistan has seen a significant expansion in the field of psychology.
The need for psychologists has been growing over the past several years and will continue to do so as mental health-related cases are increasing quickly and more individuals are becoming aware of the challenges that can arise in this area. The field of psychology offers a wide variety of employment opportunities, including:
Criminal Psychologist
Clinical Psychologist
School Psychologist
Research Psychologist
Counselling Psychologist
Neuropsychologist
Industrial Psychologist
Educational Psychologist
Forensic Psychologist
Developmental Psychologist
Consumer Psychologist
Sports Psychologist
Military Psychologist
Community Psychologist
Cognitive Psychologist
And the list goes on.
Top 6 Reasons to Study BS Psychology at MAJU
The next important thing is to choose the right university for your bachelor's in psychology. We would recommend MAJU for a lot of reasons. Keep reading to find out why you should choose Muhammad Ali Jinnah University for your BS psychology. 
1. Top-Notch Faculty
There are three program specializations that we offer at MAJU in BS psychology:
Clinical psychology
Educational psychology
Industrial and organizational psychology
And these courses have been made available after thoroughly analyzing the needs of prospective students. In addition, we take pride in having the most experienced and highly qualified faculty who will be responsible for teaching the courses. You can benefit from their guidance anytime you want in your educational or professional life.
2. Detailed Curriculum
Our curriculum includes all the subjects that you need to learn to become a great psychologist. Secondly, the syllabus is HEC-based so that you do not find any difficulty when you start your job hunt. Our BS psychology program objectives are:
You become leaders in industry or academia by displaying expertise and technical, managerial, and human abilities for the benefit of the built and natural surroundings in your respective societies.
You display a desire to learn and initiative by always expanding your knowledge and honing your technical and human skills to stay current with changes in technology, theory, and therapeutics.
Show a dedication to moral behavior, volunteerism, and societal contribution.
3. Modern Laboratories and Library
To help you gain practical exposure, modern laboratories have been made a part of the campus. This includes computer and science labs. You can benefit from these labs while doing your final year research or implementing concepts from the books in practicals.
Similarly, there is a library on the campus where you can study and prepare for your exams in a quiet and peaceful environment. Similarly, you will have every educational resource available in our air-conditioned library.
4. Incentives and Scholarships
Everyone should have access to education so that we may produce educated citizens who can assist our nation in overcoming socioeconomic challenges and contributing to its development in the world community.
Therefore, when you choose MAJU for BS psychology, you will have the chance to avail a variety of scholarships and incentives and have easier access to education.
These consist of:
Merit-Based Scholarships
Financial Aid, Contingency, and Disabled Scholarships
PGC Scholarships
Siblings Scholarships
MAJU Alumni Scholarships
Faculty Members and Staff Scholarships
Therefore, you need not worry at all if you are unable to pay for your education. You can apply for the scholarship as soon as you are admitted to MAJU and study without stress. That is only one of the numerous qualities that make MAJU the best institution in Pakistan for studying BS in psychology.
5. Shuttle Service
We realize that not everyone has their own mode of transportation. Therefore, MAJU provides shuttle services to its students and faculty members to make travel easier. The buses are clean and air-conditioned. Additionally, there are numerous routes in Karachi, so you may pick the transport path that best meets your needs. For additional information on this subject, click this link.
6. Vibrant Campus Life
The fact that MAJU does not just focus on educating you makes it the top university in Pakistan. It also promotes boosting your personal development. We want to give you a balanced campus experience, so you can join any number of our societies and clubs.
These are listed below:
MAJU engineering society
Business administration society
Personality and Character Development Society
Mental Health Club
Plan It Society
Performing Arts Society
MAJU Sports Society
Get Your BS Psychology degree from MAJU Now!
Our spring admissions 2023 are now open. So enrol yourself at MAJU in the BS psychology course if you want to study from the best in town.
For more information, contact us at info@jinnah.edu.