Study Market-Driven Electrical Engineering Subjects at MAJU
Posted by

Date

September 7, 2023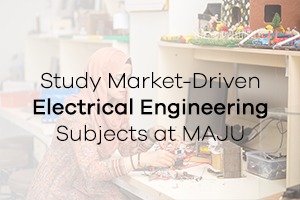 The Muhammad Ali Jinnah University (MAJU) was established in 1998 and electrical engineering is one of its pioneer departments. Since then, our prestigious educational institute has been working to teach the best electrical engineering subjects to all of its students. 
Department of Electrical Engineering (EE)
Electrical engineering is such an interesting branch of engineering. This field involves the study of electronics, electromagnetics, electricity and all the technology related to it. Our Electrical Engineering Department is growing progressively.  
So, if you are searching for the best electrical engineering department, then you do not have to look anywhere else. MAJU got you covered. You can apply to our fall admissions this year to get your outstanding learning experience started.  
Wide Variety of Electrical Engineering Degrees at MAJU
At MAJU, the EE department offers undergraduate, postgraduate and doctorate degrees in electrical engineering subjects.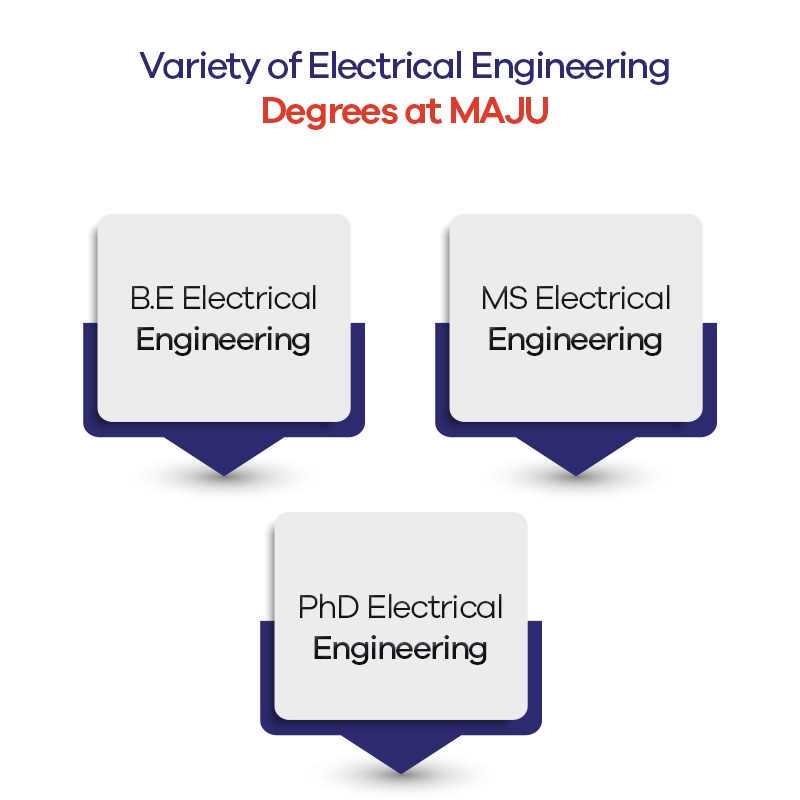 1. B.E Electrical Engineering
The bachelor's degree in electrical engineering is for 04 years. You will study for 08 semesters in it. Consequently, it will help you develop expertise in power engineering, control systems, electronics, signals, electronics and engineering management. 
Moreover, this degree will also enable you to work on your communication, problem-solving and interpersonal skills.  
B.E Electrical Engineering Subjects
There is a range of electrical engineering subjects which you will study in this undergraduate degree. Some of them are as below: 
Engineering Drawing

 

Engineering Project Management

 

Signals and Systems

 

Microcontroller-based Systems

 

Electromagnetic Fields

 

Linear Control Systems

 

Power Electronics

 

Power Systems Utilization and Distribution

 

Data communications and networking

 

Machine Learning

 

Database Management Systems

 

Circuit Analysis

 
You will have to complete all 136 credit hours of this degree. In addition to this, you must complete a senior design project (SDP) and a 6–8-week internship. Lastly, you will have to obtain a 2.00/4.00 CGPA to get this B.E. degree. 
Furthermore, you will get a chance to get high-quality academic experience with MAJU as PEC accreditation ensures quality education. 
Accreditation with PEC
The undergraduate degrees in electrical engineering are accredited by Pakistan Engineering Council (PEC). Furthermore, the Higher Education Commission (HEC) has recognised our university. So, this means MAJU meets all the quality standards of the commission. 
2. MS Electrical Engineering
After graduating with a B.E. in Electrical Engineering, you can apply to our MS programme. The MS degree is an advanced degree which consists of 04 semesters for 02 years. So, this will help you prolong your learning experience.  
MS Electrical Engineering Subjects
During this time, you will enhance your knowledge a lot. The subjects in this degree include: 
Industrial Automation and Control

 

Digital Control Systems

 

Advanced Robotics

 

Embedded Automation Systems

 

Adaptive Signal Processing

 

Applied Machine Learning

 

Sensors Detection and Estimation

 

Business Process Management

 

Innovation and Technology Management

 

Advanced Statical Methods for Engineering Research

 
Studying all these subjects, you will participate in a lot of ongoing research projects. Our research counsellors will help you in every step. 
3. PhD Electrical Engineering 
Who does not want a doctor's title with their name? You must want it, too. So, you can earn this title by studying PhD in Electrical Engineering at MAJU. You must maintain a 3.00/4.00 CGPA to successfully get your PhD degree. This degree includes 18 credit hours of coursework and 30 credit hours of research work. 
Electrical Engineering Research Topics
Our university offers a wide range of topics to earn your doctorate. So, you can choose from the following fields for research: 
Robotics and Intelligent Control Systems

 

Signal and Image Processing

 

Communication and Sensors

 

Power Electronics and Renewable Energy Systems

 
Thus, you will have the opportunity to do your thesis in the company of a lot of other researchers and PhD students. 
Scope for Electrical Engineering 
The electrical engineering field is growing a lot with many ongoing projects in Pakistan. So, you can be a part of a lot of interesting projects happening in the country and across the world.  
The China-Pakistan Economic Corridor (CPEC) is the most recent government project. Through projects like these, a lot of career opportunities are established. Many jobs for electrical engineers are available in different sectors, including: 
Construction

 

Aerospace

 

Robotics

 

Government

 

Manufacturing

 

Management 

 

National Defence

 
Why Choose MAJU to Study Electrical Engineering Subjects?
You can get outstanding facilities with MAJU. Thus, you can avail yourself of all the resources available at the electrical engineering department. Some of them are:  
1. Electrical Engineering Faculty
Most of the electrical engineering faculty members are foreign. Furthermore, the faculty members who will teach electrical engineering subjects are all highly experienced in their field. So, you can benefit from their academic experience and can get professional exposure for your career. 
2. Top-Notch MAJU Campus
What do you search for in a university? Good academics, right? What else? An amazing campus with all the world-class facilities, and you can get all of them at MAJU.  
Our university has developed the campus with all the best facilities. Some of them are: 
Multimedia-equipped Classrooms

 

Air-conditioned Lecture halls

 

Well-furnished Auditoriums

 

Labs with the latest technology

 

Libraries

 

Hygienic Canteen Area

 
And much more. So, you can apply to MAJU without any worry. 
3. HEC Library Access
After registration, you will get free access to the HEC Digital Library. So, you can read any research articles or open any journal about electrical engineering through it.  
4. Scholarships Available
MAJU has designed different scholarships to help its students study with no worries. The different scholarships available at MAJU are: 
Merit-based

 

Need-based

 

Kinship-based

 

Alumni-based

 
Furthermore, you can explore the criteria for scholarship online. 
Apply Now to Master the Electrical Engineering Subjects
Start your learning in the best engineering department right now! You can apply online via the MAJU admission portal, or you can visit our campus.