Get the Most Comprehensive BBA Degree with MAJU
Posted by

Date

September 4, 2023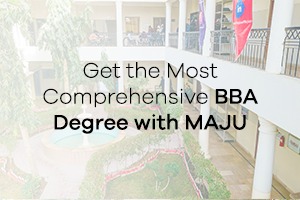 Muhammad Ali Jinnah University (MAJU) has been helping students build their careers for the last 25 years. We have designed each degree programme (including the BBA degree) to cater to all the needs of the respective fields. We believe in giving our students the best academic as well as outstanding practical experience. 
Are you looking for the best university to study BBA degree in Pakistan? No need to look further, as MAJU has brought the top-notch Bachelor of Business Administration (BBA) in Karachi.  
BBA Degree at MAJU
Our university has been working to help every student learn the most helpful market-driven skills in the world of business and management. MAJU aspires to enable every graduate of our BBA degree to change the dynamics of the business industry in future.  
BBA Degree Course Outline at MAJU 
This degree is for 04 years and will cover 08 semesters during its course. The credit hours for our Bachelor's in Business and Administration (BBA) are divided as follows: 
39 

credit hours of general education

 

18

 hours of the distribution requirement

 
You will be able to study several important subjects that will help you in your professional years. Other than theoretical courses and lab sessions, you will also have to do some work in the field during this duration.  
After 

the 4th

 semester, you must complete your 

community service

 of 

65

 hours and the internship in the field.

 

To get the degree, you must submit your business project of 06 credit hours as well after the 

6th

 semester (after completion of 

90 

credit hours of the course work).

 
Highly Qualified Faculty for Bachelor's in Business Administration (BBA)
Our university faculty members are all well-qualified. All the members put their best efforts into delivering their knowledge to you. Moreover, you will be able to gain good experience through their expertise in the field. 
BBA Degree Subjects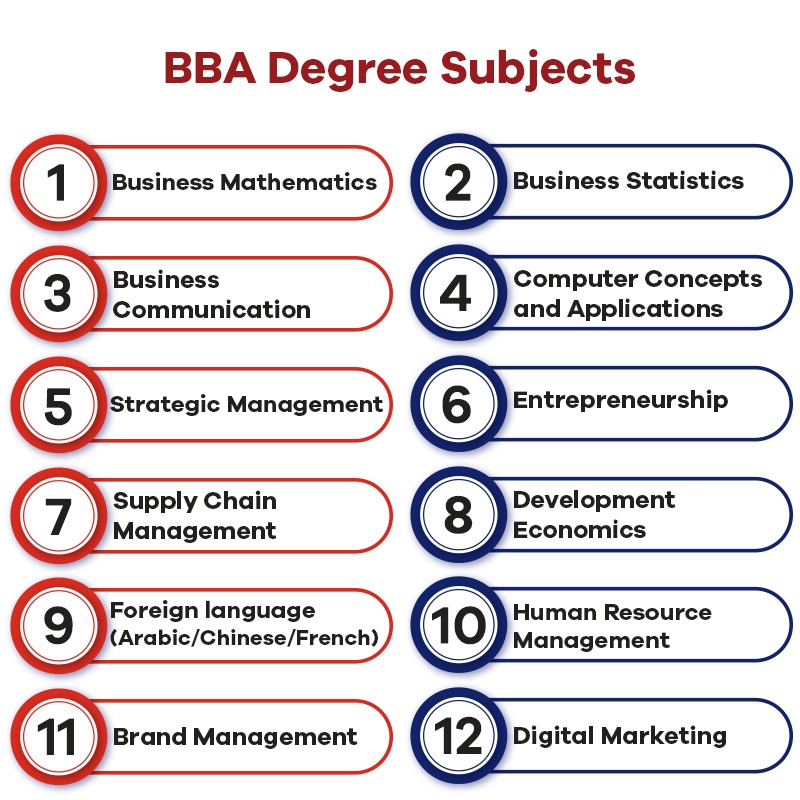 During the degree, you will study a lot of knowledge-based subjects. Some of the subjects for BBA are as below: 
Business Mathematics

 

Business Statistics

 

Business Communication

 

Computer Concepts and Applications

 

Strategic Management

 

Entrepreneurship

 

Supply Chain Management

 

Development Economics

 

Foreign language (Arabic/Chinese/French)

 

Human Resource Management

 

Brand Management

 

Digital Marketing

 
Moreover, you can look at the complete list of our course syllabus through this link. As a result, learning these subjects will help you learn useful skills for your professional life.   
Skills Learnt After BBA Degree
During the BBA degree at MAJU, you will learn all the technical information and use it in your daily work. In addition to this, some of the skills learned can be as below: 
Better Time-management

 

Effective Communication Skills

 

Problem Analysing Skills of the business world

 

You will be able to analyse data professionally

 

You will be able to assess consumer behaviour and will act accordingly.

 

You will learn expert Management Skills.

 

Moreover, you will be able to make technical business decisions with precision.

 
And the list goes on.  
Industries To Work in After BBA
The business sector has its branches in almost every field. After graduation, you will have a list of industries to choose from. That is why, you can work in any of the following mentioned industries: 
Sales and Marketing

 

Human Resources

 

Tourism

 

E-commerce

 

Information Technology

 

Business Consultancy

 

Investment Banking

 

Government

 

Banking and Financial Services

 

Supply Chain Management

 
Through the increased demand for professionals in the above-mentioned industries, you will have multiple career opportunities. Thus, you can work in a lot of different roles as per your preference.  
Careers After BBA Degree
At MAJU, we have about 11777 successful alumni working worldwide.  Our institute helps every student via career counselling. The field of business administration will open the doors to a lot of different career roles. Some of them are as follows: 
Digital Marketer

 

Finance Manager

 

Sales and Marketing Executive

 

Entrepreneur

 

Blockchain Expert

 

Supply Chain Manager

 

Accounts Manager

 

Financial Analyst

 

Financial/ Marketing/ HR Planner

 

HR Executive

 

Bank Branch Manager

 

Trust Manager

 

Financial Advisor in any Organisation

 
Our Potential Employers
In addition to all the other plus points, MAJU has also partnered with a lot of big names in the industry to get you the best job opportunity after a BBA degree. 
Bank Alfalah Limited

 

Meezan Bank Limited

 

National Bank Limited

 

Eastern Federal Union Insurance Company Limited (EFU)

 

Jubilee Life Insurance Limited

 

Habib Bank Limited

 

Gul Ahmed Textile Mills

 

Al Karam Textile Mills

 

Rajby Textile

 

Yamaha Motor Company

 
So, you can get a chance to be a part of any of these companies after graduating from MAJU. 
Fee Structure of BBA Degree
The MAJU Fee Structure for the BBA is designed specifically to be affordable for everyone.  
The admission fee is 

1500 PKR/-

 which is non-refundable and non-transferable.

 

Furthermore, the application fee is 

1500 PKR/-.

 It is also non-refundable and non-transferable.

 

Other than these, the tuition fee is 

6000 PKR/-

 per credit hour for the subject of the degree.

 
The university holds the right to make any changes in the fee as per the policy. 
Scholarship Opportunities
You can also avail yourself of the scholarships offered by our prestigious institute. There are different criteria basis for the scholarship at MAJU that are as below: 
Merit-based

 

Kinship

 

Alumni-based

 

Need-based

 
Apply for a BBA Degree at MAJU Now!
You can visit our website or visit our campus as MAJU admission for fall 2023 is open. Start your advanced business administration journey with Jinnah University right now as the time is short and we are sure that you would not want to miss your chance for 2023 enrolment.