What Is the Role of Education in the Economic Development of Pakistan?
Posted by

Date

November 1, 2023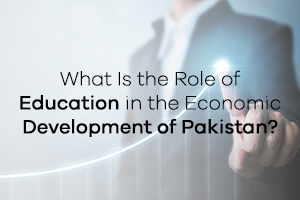 Education can influence the way we perceive the world around us, understand issues, and find solutions to our problems. Moreover, education makes us more aware of our rights and duties within our communities and our country. This applies further when speaking about the role of education in the economic development of Pakistan. Indeed, we can never underestimate the role of education in this country. What is the key role of education, and how it plays a role in the economic development of Pakistan? Let's explore this further! 
How Does Education Play Its Role in the Economic Development of Pakistan?
Ensuring That Future Generations Have Better Life
According to a report, at this moment, nearly six million Pakistani children are currently out of school. Adding to this, many more are not learning even basic mathematics or reading skills. Notwithstanding the fact that the dropout rates are high. This is where education can be an investment for the country.  
Basically, the importance of knowledge and learning through education has been recognised since the start of time. In fact, Plato wrote: "If a man neglects education, he walks lame to the end of his life."  
Thus, by investing in education, Pakistan can ensure that there will be more qualified and educated workers to contribute to the economic development of the country.  
Achieve Excellence in Important Fields of Society
No doubt, without development in education, Pakistan would not be able to achieve excellence in important fields of society. Why? 
Because the solution to all our major social, political, economic, and religious problems lies in giving due attention to education.  
Here's the explanation! 
As we can see, mass illiteracy in Pakistan has given birth to many problems like poverty, unemployment, overpopulation, and beggary. However, the government can tackle these problems with education. If the country can progress educationally, then every member of society will play a role in its development. Accordingly, once the country achieves a satisfactory level of education, we would certainly be able to strengthen ourselves economically, socially, and politically. 
The Link Between Education and Trade
By investing in learning and education, Pakistan can form a virtuous circle in creating demand for education to make the country's trade sector more competitive. How? 
In brief, trade itself cannot be the engine of growth. Instead, it must operate through some mechanism, such as the formation of human capital, to affect growth. Hence, the impact of trade openness on long-term growth depends on how well people absorb and use information and technology. Accordingly, to adapt to an environment of stronger competition we need educated people who are competent in overviewing the trade demands. Here, we can see how the role of education plays a significant role in the economic development of the country.  
The Changing Skills Demanded by the Labour Markets
Along with the race between technology and education, the labour markets adjust to automation. In this new world, the ability of workers to compete is weakened by the mediocre performance systems in most developing countries. Hence, the economic change and global competition demand the mastery of competencies and the acquisition of new skills. 
Therefore, Pakistan needs to invest smartly and focus on the role of education. In other words, the country needs to pay attention to teachers, early childhood education, and development. 
The Need for More Experts in Economics and Finance
Considering how important the role of education in the economic development of Pakistan is, we need more experts in Economics and Finance. Why?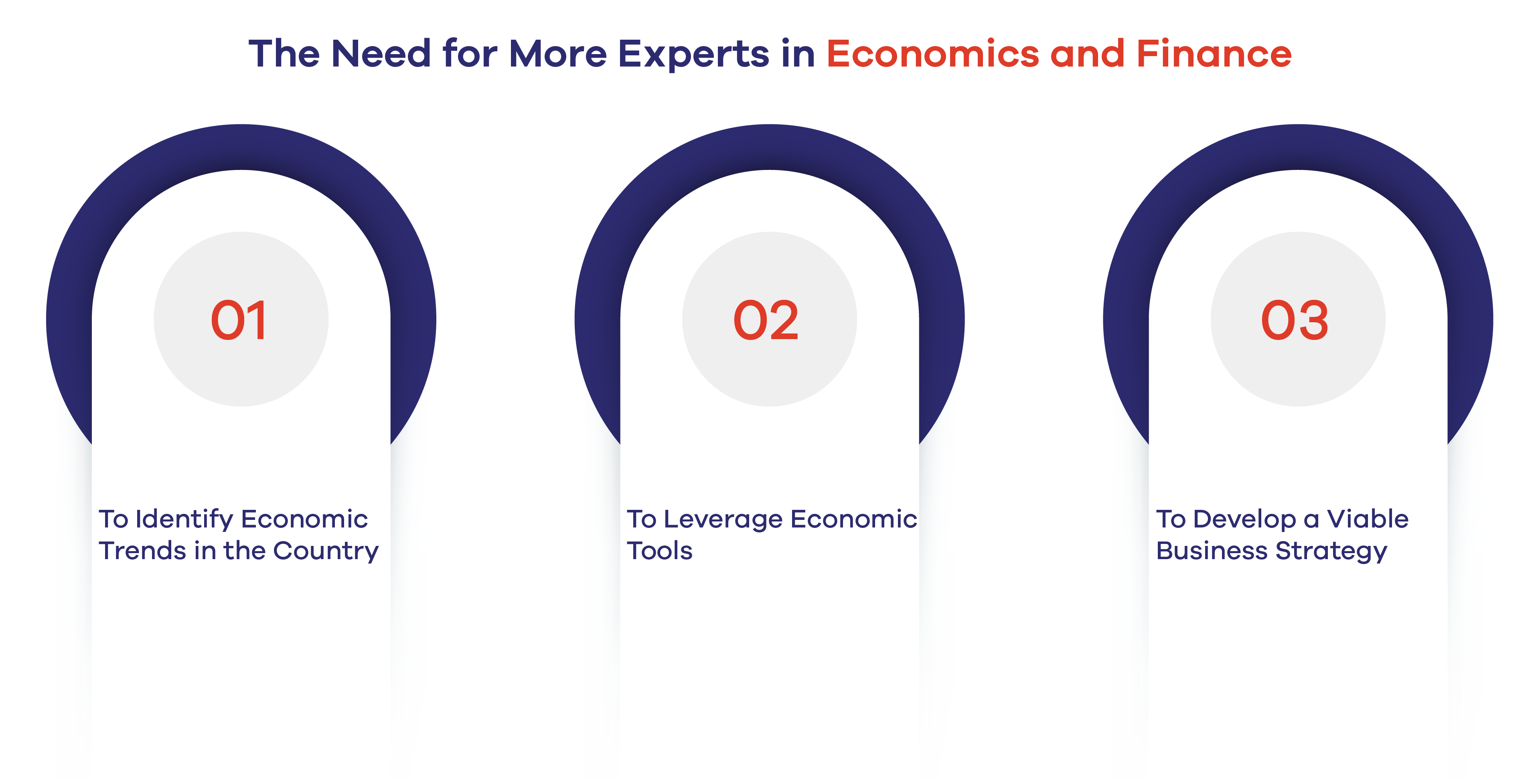 To Identify Economic Trends in the Country
First, do you know financial decision-making can make or break the global economy?  
Yes, it's why private and public institutions rely so much on financial economists. So, these professionals conduct the data analyses needed to identify economic trends in the country. Moreover, they will help to maintain financial stability for not just investors but the overall economy.  
Well, the study in Economics and Finance incorporates the latest research developments. With this knowledge, those professionals can make financial decision-making to directly impact on policy and practice in the country.  
To Leverage Economic Tools
Here's another key role of education in the economic development of Pakistan. So, learning economic theory is one thing. However, developing the economic tools to make business decisions is a different thing. Economics will teach the basics and provide some concrete analysis tools.  
For example, you will be able to learn about conjoint analysis, which is a statistical approach to measuring consumer demand for specific product features. Accordingly, this tool will allow you to know the surprisingly complicated feature versus price trade-offs that consumers make every day. 
Definitely, with more capable experts to leverage economic tools, Pakistan will be able to achieve better results in trade.  
To Develop a Viable Business Strategy
Economics is not simply learning a set of technical words. More than that, it's about using them to develop a viable business strategy. Therefore, once you understand the terms, it will be easier to use theories and frameworks.  
For example, you will be able to develop Porter's Five Forces and SWOT analyses of a company. These tools will then help you assess situations and make a variety of financial decisions for your organisation. Thus, you can develop the best ways for a company to maximise revenue. Now imagine what you can do on a country scale. Yes, another significant role of education! 
Where to Get the Best MS Economics and Finance Program?
Muhammad Ali Jinnah University (MAJU) provides the best MS Economics and Finance program in Karachi. Through this 2- year program, you will be joining an academic community that is forward-thinking and collaborative to help you reach your full potential. 
Moreover, the Department of Economics at MAJU covers a wide range of topics, including: 
Advanced Macroeconomics

 

Econometrics

 

Contemporary Issues in Banking and Finance

 

International Finance

 
At its core, MAJU is dedicated to providing high-quality education to its students. Moreover, we pay due attention to the role of education in the economic development of Pakistan. In addition, we aim to help them develop a deep understanding of economic theory, policy, and practice. So, if you have the passion to get an MS Economics and Finance degree, it is time to get your admission!