The Bright Future of Digital Payment Methods Pakistan
Posted by

Date

November 6, 2023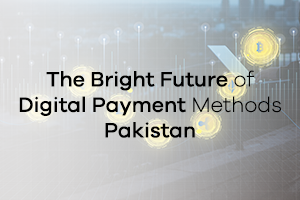 Along with the rise of online shopping and electronic banking, digital payments have been revolutionising the way people and businesses operate today. Speaking of Pakistan, people now increasingly use digital payment methods as these options are safer and more secure. Even more, the country is undergoing a digital transformation to reshape its economic landscape. So, let's have a look at the benefits and bright future of digital payment methods Pakistan! 
Digital Payments – What Are They?
In brief, digital payments, or popular as e-payments, happen electronically. Yes, this means that these transactions take place without the need for physical cash or checks. So, basically, digital payment methods act as a bridge between customers, merchants, and related banks in an online transaction. 
Moreover, digital payment methods have grown in popularity over the last decade, along with the rise of online shopping. The prediction has mentioned that digital and mobile wallets will be rising to all transactions by the year of 2024. Currently, in Pakistan, people can use various payment methods, including credit and debit card payments, digital wallets, and cryptocurrency.  
Different Types of Digital Payment Methods Pakistan and the Benefits
No doubt, digital payment methods have revolutionary encrypted technology for transactions which is faster and safer than old-dated payment transactions. But how can these innovative methods benefit Pakistan as a developing country? To answer this, we need to describe different types of digital payment methods in Pakistan and their benefits.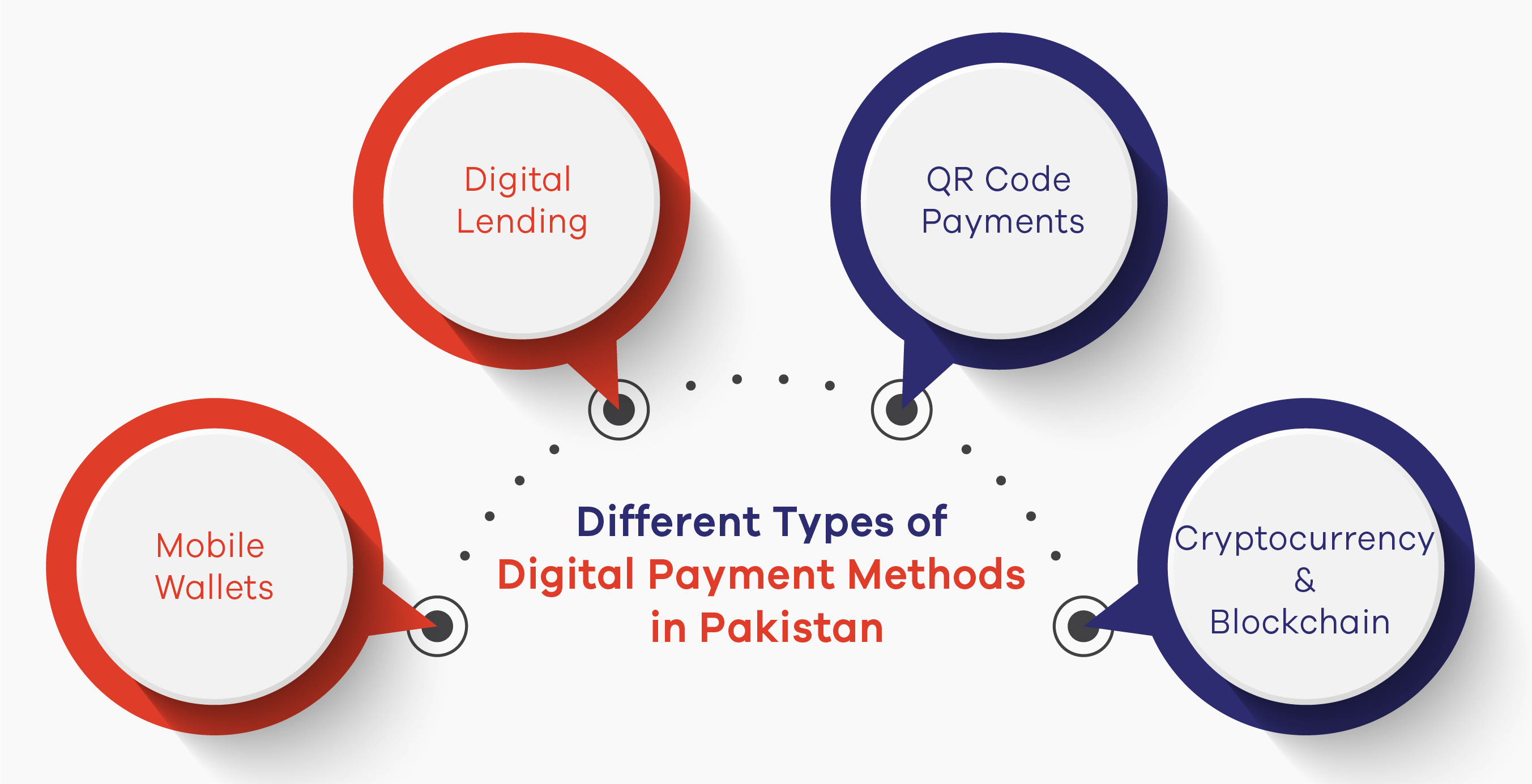 Mobile Wallets – Empower the Unprivileged Communities
As we know, Pakistan is home to a substantial number of populations that go unbanked. Hence, mobile wallets are paving the way for financial inclusion. In brief, mobile payment apps allow people, even those without traditional bank accounts, to access financial services conveniently and quickly.  
What are the benefits of this method? 
It provides a secure way to store money

 

It enables users to make payments, pay bills, and even access credit

 

It helps in fostering economic empowerment among the unprivileged communities

 
Digital Lending – Support Entrepreneurship
Digital lending platforms in Pakistan support entrepreneurs to turn their dreams into reality. Many new start-ups have initiated the process of giving loans with smart algorithms to check customers' transaction history. The main benefit we should note about these platforms is that they provide lending for those without having any fully functional bank at their back. 
QR Code Payments – Make Transactions Easier
QR code payments have gained great popularity in Pakistan these days. The method offers convenient and contactless ways to pay for products and services. This easy process enables businesses, big and small, to implement QR code systems. Through the QR code, customers can easily make payments by simply scanning a code with their smartphones.  
Check out some benefits of this method! 
It reduces the reliance on physical cash

 

It enhances the overall efficiency of transactions

 
Hence, considering the benefits above, QR code payment methods are preferable by many businesses and customers alike. 
Cryptocurrency & Blockchain – Serve as the Next Frontier
Cryptocurrency and blockchain technology are generating buzz in Pakistan's financial sector.  
Here are the benefits of these two methods! 
Its transparent and secure nature has the potential to revolutionize many industries, such as banking, supply chain, and healthcare.  
It offers a decentralized alternative to traditional currencies. In addition, cryptocurrency provides financial freedom and security to users 
As regulations evolve, these two digital payment methods could play a significant role in shaping the future of digital payments in Pakistan. 
The Future of Digital Payment Methods Pakistan
As digital payment methods become more prevalent in Pakistan, ensuring the security of transactions is highly essential. Responding to this, some financial institutions and payment service providers are investing in better security measures. For example, we can see biometric authentication, multi-factor authentication, and encryption technologies to protect users' financial data. Overall, these security protocols build trust among customers. Eventually, these efforts will encourage them to embrace digital payment methods with confidence in the country.  
In addition, digital payment methods are the widely used payment methods for customers around the world, and they keep growing. Hence, by choosing these methods, businesses can increase customer convenience. Better than that, they can decrease cart abandonment and help future-proof various industries in the country.  
What's more, speaking of the future of digital payments in Pakistan, we must say that it is undeniably bright. With innovative technologies, government support, and a growing entrepreneurial spirit, Pakistan is on the way to becoming a cashless society. Accordingly, there is a higher demand for professionals who can develop user-friendly digital payment methods in the country.  
What Skills Are Required to Develop User-friendly Digital Payment Methods?
With the fast growth of digital payment, Pakistan needs professionals who can keep up with the latest trends and technologies according to customer expectations. For sure, these professionals should have certain skills and competencies to succeed in this industry.  
Have a look at below for essential skills required to develop user-friendly digital payment methods Pakistan! 
Technical Skills
Digital payment involves various technologies, such as NFC, QR codes, biometrics, blockchain, and cloud computing. Hence, the professionals in this field should have a solid understanding of how these technologies work and how they interact. In addition, they need to know how to create secure, convenient, and innovative payment solutions. Moreover, they also need to understand how to maintain digital payment systems and applications. 
Business Skills
One thing to note is that digital payment is not just about technology. More than that, it is also about creating value for customers, merchants, and partners. In this context, the professionals in this field need to have a strong sense of business acumen, strategic thinking, and market awareness.  
Software Skills
For sure, every business needs to ensure the security of its digital payment solution. This is where there is a need for using the best practices and standards for encryption, authentication, and authorisation. With these practices, businesses can prevent any fraud and protect users' data and transactions from hackers, scammers, or errors. Plus, there is also a need to include features such as verification codes, multi-factor authentication, or biometric authentication to verify users' identity and consent. Simply put, software skills are required to develop digital payment methods Pakistan.  
How to Be a Professional in Digital Payment Methods?
So, if you are interested in developing user-friendly digital payment methods, you can start studying BS Software Engineering program. For this, you can rely on MAJU (Muhammad Ali Jinnah University) as the best university for software engineering in Karachi. By being a professional Software Engineer, you can contribute to the bright future of digital payment methods Pakistan!