Top Reasons to Study Molecular Modelling Courses Pakistan at MAJU
Posted by

Date

November 21, 2023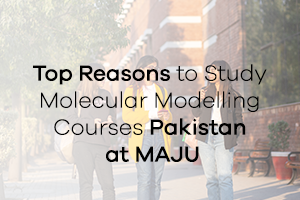 Are you interested in being a chemist? Well, if you love to get involved in drug discovery, you would love to be a chemist. Every single day, chemists make their best effort to design the right drugs to cure various new and old diseases. Accordingly, this is where molecular modelling comes with its significant importance. Yes, molecular modelling is the main theme of drug discovery these days. In this context, to be an expert chemist, you will need to study molecular modelling courses Pakistan at MAJU. Why? Check out the top reasons below! 
A Brief Intro to Molecular Modelling
First of all, let's know the definition of molecular modelling and what it is used for. In simple words, molecular modelling is an established computational toolbox to assist early drug design and development. So, basically, this molecular modelling helps to generate ideas on compounds or macromolecule's 3D conformation, and protein–ligand interactions. In addition, it also helps chemists to make predictions on biological activities.  
Moreover, the collaboration between molecular modelling, medicinal chemistry, and biological experiments will give helpful insights into molecules' behaviour. As a result, this collaboration can make early drug discovery become more efficient. 
How Did Molecular Modelling Change Chemistry?
Along with the rise of innovations, we must say that chemistry today is not what it used to be. Well, there was a time when things in chemistry were a lot practical, occasionally dirty, and sometimes a bit smelly. However, as for today, those chemists are exchanging the 8-hour lab sessions to stimulate chemicals instead of working with them.  
Hence, no doubt, the rise of molecular modelling has changed the face of chemistry in more exciting new ways. Now the question is; would it change education too?  
Here is the hint; molecular modelling courses Pakistan could present both opportunities and challenges to the chemical sciences. Accordingly, both opportunities and challenges apply to an entire chemistry education. 
How Molecular Modelling Handles the Challenges in Drug Design and Development?
Ever since the first attempts at structure-based drug design, molecular modelling techniques have developed quite enormously. Even better, these techniques go side by side with the increasing computational power. Plus, chemists also use these techniques along with structural and biological information on potential target molecules. Simply put, the experts in MS bioinformatics today consider molecular modelling as an integral component of the modern drug discovery process.  
However, there are still many challenges in drug discovery process we must face, such as: 
Predicting accurate energies of ligand binding

 

Estimating the flexibility of protein upon ligand binding

 

Figuring out the off-target effects of designed compounds

 

Modelling antibodies and nanoparticles

 

Targeting some macromolecular interfaces

 
To help manage the challenges above, molecular modelling lies between theory, observation, and experiment. Additionally, its attempts to describe the state and behaviour of molecules through computer simulations come up as a fundamental approach to the rest of chemistry. Thus, it helps for better and more efficient processes in drug design and development.  
Why Should You Study Molecular Modelling?
As we mentioned above, if you love to design the right drugs to cure various new and old diseases, then the best way is to study molecular modelling courses Pakistan.  

In addition, molecular modelling courses enable those scientists and researchers to: 
Get a better understanding of the structure and behaviour of molecules

 

Predict the interactions of molecules

 

Develop new drugs with safety and efficacy

 

Contribute to the development of new and innovative therapies

 
What Makes MAJU the Best Option for Molecular Modelling Courses Pakistan?
Muhammad Ali Jinnah University (MAJU) in Karachi is the best option to help you study molecular modelling. Why? Here are the top reasons to choose MAJU to pursue the MS Bioinformatics program! 
Get the latest knowledge and state-of-the-art molecular modelling tools

 

Develop efficient bioinformatics algorithms with advanced education technology

 

Learn mathematical modelling and simulation in world-class faculty

 
 Apart from educational reasons, there are more compelling reasons that make MAJU the most popular university in Pakistan. 
Well-qualified faculty members

 

A bigger opportunity to express yourself by participating in various

societies and clubs

 

Scholarship

options for all the students

 

Spacious auditoriums

 

Sports-complex

 
Furthermore, MAJU understands how proper education plays a great role in developing the future generations of Pakistan. Hence, by taking your master's degree at Bioinformatics, you can get prospective career opportunities, such as: 
Bioinformatics Scientist

 

Biostatistician

 

Research Scientist

 

Microbiologist

 

Bioinformatician

 

Zoologist or wildlife biologist

 

Molecular Biologist

 
Well then, there is no reason not choosing MAJU as the best university to study molecular modelling courses Pakistan. Make the right decision by getting MS Bioinformation degree at our reputable university. Stay updated with MAJU website and don't miss our Spring Admissions 2024!