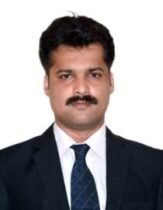 Muhammad Noman
Assistant Professor
Economics
PROFILE SUMMARY
Dr. Noman is a highly accomplished and experienced economist, with a strong background in both teaching and research. With a PhD in Economics, and more than 10 years of professional experience, Dr. Noman has established himself as a dynamic and competent expert in his field.

His six years of work experience at Federal Urdu University of Arts, Science & Technology (FUUST) is a testament to his expertise and skillset. As a researcher, Dr. Noman has produced 16 national and international papers in prestigious journals, demonstrating his dedication and passion for his work. He has also presented his work at 6 international conferences, further establishing himself as an influential figure in the field of Economics.

Currently working as an Assistant Professor at Muhammad Ali Jinnah University, Dr. Noman is also supervising M.Phil. scholars and working on projects of BRP and FRP. His areas of interest include Labor Economics, Gender Economics, Development Economics, and Public Policy, reflecting his commitment to improving the lives of individuals and communities through his research.

Dr. Noman is a highly respected and accomplished economist, whose dedication and passion for his work make him an invaluable asset to the academic community.
QUALIFICATION
PhD Scholar
Economics
Applied Economics Research Centre, University of Karachi, Pakistan
2022
MPhil
Economics
Applied Economics Research Centre, University of Karachi, Pakistan
2016
Bachelor
Education
Allama Iqbal Open University, Pakistan
2013
RESEARCH AREAS / INTERESTS
Labor Economics
Public Finance
Economic Planning and Development
Health Economics
Gender Economics
TEACHING INTERESTS
Microeconomics
Macroeconomics
Advanced Macroeconomics
Business Economics
Business Statistics
Statistical Inference
Business Mathematics