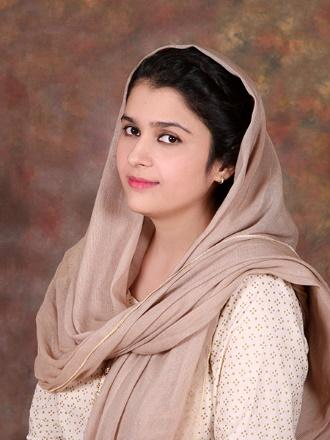 Aisha Rais Ahmed
Lecturer
Psychology
PROFILE SUMMARY
Aisha Ahmed is a Consultant Psychologist and Lecturer at the Department of Psychology since 2021. Moreover, she is fulfilling her responsibilities as an academic advisor and the Incharge of Psychological Lab.

She is a Ph.D. Scholar, M.Phil., PMDC, MSc in Clinical Psychology. She worked as a Clinical Psychologist and Rehabilitation Trainer at Karwan-e-Hayat for 2 years and She has served Army Public College-Saddar Karachi as an Emotional Health Counselor and Lecturer for 3 years.
RESEARCH AREAS / INTERESTS
Her research interest is, "Wellbeing rooters" She is practicing positive psychological interventions to enhance wellbeing, improve relationships, Contentment and a greater outlook in life. Some of her Attention-grabbing papers have been presented in International conferences and recently one of her papers published in sound journal.
TEACHING INTERESTS
She inspires the student to give her best. Her teaching interest mainly allied to Research and Assessment such as, Psychological Testing, Practicum, Research Methods, Principles of Psychology.