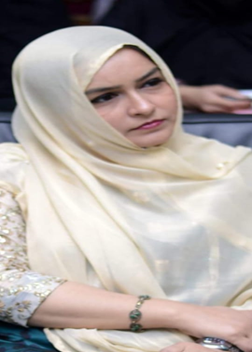 Maryam Hanif Ghazi
Lecturer
Psychology
PROFILE SUMMARY
Maryam Hanif Ghazi is a psychologist and has been teaching different courses of psychology to the students of various degree programs for more than a decade. She holds a master's degree in Psychology and is currently enrolled in Ph.D. at the University of Karachi. She is one of the founding teaching faculty of the Department of Psychology at Mohammad Ali Jinnah University and presently serving MAJU as the Head of the Psychology department. Her expertise also lies in curriculum development and planning in the field of psychology.
RESEARCH  INTEREST
Her research interest is mainly related to parenting practices and the impact of the different parenting techniques on youth. She has expertise in statistical analysis and primary data analysis including SPSS. The main domains of study are Clinical and Organizational/Industrial Psychology. Subjects' expertise is in Human Behaviour, Organizational Behaviour, Consumer Behaviour, Industrial Psychology, Psychology at work, Social Psychology, Research Methods, Statistics, Psychology of Well-being, etc.
TEACHING INTEREST
Her passion includes Teaching, Research, leadership and management, and Mentoring. She has served the Aga Khan Education system as a mentor of personal, intellectual, social, and moral development and developed the curriculum for the same.