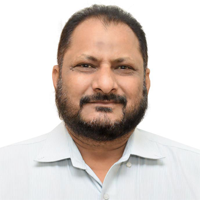 Afaq Ali Khan
Assistant Professor
Economics
PROFILE SUMMARY
Afaq Ali Khan is a highly experienced and accomplished professor, with over 25 years of teaching experience at the university level. He is currently serving as an Assistant Professor at Mohammad Ali Jinnah University, a position he has held since 2004. His academic qualifications include an MSc (Eco) and BSc (Hon) in economics from the International Islamic University in Islamabad, as well as an MS (Eco & Fin) from Mohammad Ali Jinnah University. Furthermore, he is currently pursuing a PhD in Economics from the University of Karachi.

With a track record of attending international, national workshops, seminars, and conferences, Afaq Ali Khan has gained extensive experience in the management and administration of research surveys, workshops, and seminars. He also has a sound record of publishing articles in national reputes newspaper/Magazines. Moreover, he is frequently invited as an economic expert on different TV channels to share his views on various economic issues such as monetary policy, population growth, poverty, budget, and government policies.

Afaq Ali Khan's research interests are focused on inclusive sustainable development, with a specific emphasis on strategies to reduce disparities among nations and address multidimensional poverty. He is dedicated to designing policies for sustainable community development, including health and education, human capital, and urbanization. Additionally, he is highly interested in public finance, tax reforms, NFC, exchange rates, economic growth, and balance of payments.

Afaq Ali Khan's wealth of experience and expertise make him a highly respected and influential figure in the field of economics. His dedication to inclusive sustainable development and passion for designing effective policies to address economic issues is an invaluable asset to both the academic and broader community.
QUALIFICATION
PhD Scholar
Economics
Department of Economics, Karachi University, Pakistan
MS
Economics & Finance
Mohammad Ali Jinnah University Karachi, Pakistan
2017
MSc
Economics
International Islamic University Islamabad, Pakistan
1996
RESEARCH AREAS / INTERESTS
His research interest links inclusive sustainable development related to strategies to reduce disparities among nations and multidimensional poverty aspect, to design policies for sustainable community development including health and education, human capital and urbanization
Public finance, tax reforms, NFC, Exchange rates, Economic Growth and balance of Payments are also key areas of his interest
TEACHING INTERESTS
Microeconomics
Macroeconomics
Development Economics
International Trade
Advanced Microeconomics
Advanced Development Economics