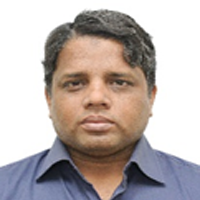 Muhammad Meraj
Associate Professor
Economics
PROFILE SUMMARY
Dr. Muhammad Meraj is a highly respected and accomplished economist, renowned for his extensive academic qualifications and broad range of expertise. With a Ph.D. from Ritsumeikan Asia Pacific University (APU), Japan, an M.Phil. from the Applied Economic Research Centre (AERC), Karachi, and multiple other degrees from the University of Karachi, Pakistan, Dr. Meraj brings a wealth of knowledge and experience to his work.

As an Assistant Professor (Economics) at the Department of Economics, Federal Urdu University of Arts, Science, and Technology, Karachi Pakistan, and currently serving at Mohammad Ali Jinnah University (MAJU), Karachi, Pakistan, Dr. Meraj is an active member of the research community in Pakistan. He has been awarded the status of Higher Education Commission of Pakistan's approved Ph.D. Supervisor and is a member of both the Japanese Society for the Promotion of Science and the Connecting Asia Research Community, Malaysia.

Dr. Meraj has published numerous research papers and has participated in many international research conferences, establishing himself as an authority in the fields of Poverty Alleviation, Community-Capacity Building, Economic Development, Micro Finance, Monetary Policy, International Trade, and Business Unit Efficiency. His extensive knowledge and experience make him a highly sought-after expert in his field.
QUALIFICATION
Ph.D
Ritsumeikan Asia Pacific University (APU), Oita, Japan
2017
M.Phil.
Economics
Applied Economics Research Centre, Karachi Pakistan
2011
MBA
Finance
Karachi University, Pakistan
2006
RESEARCH AREAS / INTERESTS
Poverty Alleviation
Gender Equality
Monetary mechanism and monetary policy effectiveness
Globalization and Economic Growth
Microfinance
TEACHING INTERESTS
Microeconomics
Macroeconomics
Business Statistics
Development Economics